Senate Unearths Fresh N3b Fraud In Pension Probe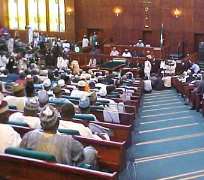 ABUJA, April 03, (THEWILL) - The Senate panel investigating the management of pension fund on Tuesday announced its discovery of an illegal police pension account with an old generation bank, inside which a sum of N3 billion was deposited same day the account was opened.
The Joint Senate Committee on Establishment and Public Service and States and Local Government Administration, chaired by Senator Aloysius Etok, said that its preliminary findings revealed that the opening of the account, which was done in the name of one Adamu Salihu and D.G with different codes, was not ratified by the Accountant General of the Federation.
Consequently, Etok invited the managing directors of seven banks and the Chairman of Economic and Financial Crime Commission (EFCC) to the next hearing on April 16 to offer explanations on the series of controversial accounts of the fund.
The banks, whose chief executives were invited by the committee, include First Bank, Union Bank, Zenith Bank, Diamond Bank, Fidelity Bank, Guarantee Trust Bank (GTB) and Skye Bank.
In his defence, the Executive Director (North) of United Bank for Africa (UBA), Mr. Dan Okeke, who appeared before the committee to make clarifications on the pension account with his bank, noted that it was impossible for one account to bear two different names. He also said that it was impossible, under normal circumstances, for two people to operate same account.
"There was approval before the account was opened but I cannot say if it was granted before the account was opened or after," he said. "I urge the committee to give me time to fetch a copy of the approval letter for the opening of the account."
The committee chairman then mandated him to provide details of all the pension accounts of the Police, Head of Service, Custom Service and others with the bank.