U.S. Puts $10 Million Bounty On Pakistan Militant; India Pleased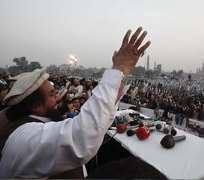 The United States has posted a $10 million reward for help in the arrest of a Pakistani Islamist leader, Hafiz Mohammad Saeed, suspected of masterminding attacks on India's financial capital and its parliament.
The reward comes at a time of heightened tension between the United States and Pakistan and is likely to increases pressure on Pakistan to take action against the former Arabic scholar, who has recently addressed rallies in Pakistan despite an Interpol warrant for him.
Released from house arrest in 2009, Saeed is a free man in Pakistan.
India has long called for Saeed's capture and said the bounty - one of the highest on offer - was a sign the United States understood its security concerns. Last week, Saeed evaded police to address an anti-U.S. rally in the Pakistani capital.
"India welcomes this new initiative of the government of the United States," Indian External Affairs Minister S.M. Krishna said on Tuesday of the bounty announced on the U.S. Rewards for Justice website.
"In recent years, India and the United States have moved much closer than ever before in our common endeavor of fighting terrorists."
The United States only offers a $10 million reward for three other people it suspects of terrorism, with a single reward of up to $25 million for Egyptian-born Al Qaeda leader Ayman al-Zawahiri. There was previously no U.S. bounty for Saeed.
In the 1990s, Saeed founded Lashkar-e-Taiba (LeT), one of the largest and best-funded Islamist militant organizations in South Asia. He abandoned its leadership after India accused it and another militant group of being behind an attack on the Indian parliament in December 2001.
Saeed's freedom of movement in Pakistan has angered India, which says it has given its neighbor a dossier of evidence to arrest the bespectacled firebrand.
"There is enough material to detain him and we feel the Pakistan government is not doing its duty," Home Minister P. Chidambaram told Reuters.
Pakistan's President Asif Ali Zadari is due to visit India on Sunday and is expected to meet Prime Minister Manmohan Singh.
CHARITY A FRONT?
Saeed heads the Jamaat-ud-Dawa (JuD) charity, described by the United Nations as a front for the LeT, which is banned in Pakistan. He denies any connection to the LeT.
Yahya Mujahid, the JuD's spokesman, said the reward was a reaction to his group's campaign against attacks in Pakistan by U.S. drone aircraft and its opposition to supplies being transported through Pakistan to NATO forces in Afghanistan.
"This inappropriate American behavior will not cause any problems for Hafiz Mohammad Saeed, but it will definitely intensify anti-American sentiments in the hearts of millions of Muslims," Mujahid said in a statement.
Saeed, 61, is suspected of masterminding numerous attacks, including the November 2008 militant assault on Mumbai in which 166 people, including six U.S. citizens, were killed.
Ten Pakistani gunmen killed commuters, foreigners and some of India's wealthy business elite in the three-day rampage in the city, which included attacks on two luxury hotels, a Jewish centre and a train station.
This year, Saeed has made appearances in support of the Defense Council of Pakistan, an alliance of groups campaigning for a break in ties with the United States and India.
The LeT was nurtured by Pakistan's Inter-Services Intelligence (ISI) spy agency to fight Indian forces in disputed Kashmir and analysts say it is still unofficially tolerated by Pakistan, though it was banned there in 2002.
Admiral Robert Willard, the head of the U.S. military's Pacific Command, last year expressed concern over the expanding reach of LeT, saying it was no longer solely focused on India, or even in South Asia.
REUTERS