Okpe Day Celebration 2012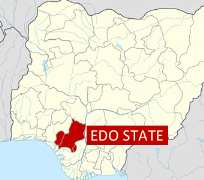 The Okpe people of Akoko-Edo Local Government Area in Edo State commenced a weeklong celebration of the annual Okpe Day Festival on Sunday with an interdenominational church service at the palace square grounds. Prayers were said for peace and development of the kingdom, which is the food basket of the local government, on account of the vast expanse of farmland, bordering on Owan area of Edo State and Idogun town in Ondo State.
The church service was followed with a novelty soccer match between two female associations; Unema and Anegbetha Clubs on Monday this week. Another soccer match, between youths, is planned for Friday April 6, 2012. They are expected to vie for a trophy donated in the memory of the late Pa Job Aigbe.
The highlight of the weeklong celebration is the civic reception ceremony scheduled for Saturday, April 7, 2012. The ceremony will be chaired by Chief J. Sunday Arogundade and has the Okuokpellagbe of Okpella, His Royal Highness, Alhaji Dr. A.Y.E Dirisu (OON) as Father of the Day. The rich culture of the Okpe people will be on display during the ceremony. There will be several traditional dances and the sons and daughters of the ancient kingdom are expected to wear the traditional 'owoludo' and 'alikiba' dresses and garments made from the ancient 'agbiba' cloth.
Speaking in the significance of the annual ceremony, His Royal Highness, Oba Okhishimede Idogu 111 (OON), The Olokpe of Okpe, said the annual event is to showcase the kingdom's rich heritage as a way of preserving the culture and foster unity and cooperation among its people. "I expect all my people, home and abroad to participate actively," he stated.