Mark Wants Plea-Bargaining To Serve The Lowly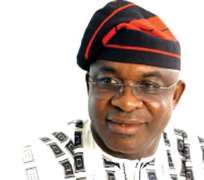 ABUJA, April 02, (THEWILL) - Plea-bargaining has been described as a practice designed to protect the high and mighty in the society who have committed more heinous crimes than many of the people awaiting trial in prisons.
President of the Senate, David Mark made the observation on Monday during a public hearing on the plight of persons awaiting trial in the country, organised by the Joint Committees on Judiciary and Legal matters, and Interior and Police Affairs. He called for a guideline that will ensure the deployment of plea-bargaining to serve the ends of justice rather than protect 'big men' in the society.
Represented by the Senate Leader, Senator Victor Ndoma-Egba, Mark lamented that 33, 692 out of the 48, 124 inmates of prisons all over the country were awaiting trial as at May 2011, a situation he pronounced as "embarrassing" and an "indictment" of the country's judicial system.
"In this time, when we are looking for creative ways to deal with the number of prisoners awaiting trials, I think we have to look at how plea-bargaining has been used," he said. "Has it been used to meet the ends of justice? How come it is only the high and mighty who benefit from it? I think public perception is that it has not been used to meet the ends of justice but to protect powerful men in our midst, who have committed crimes far more heinous than those awaiting trials in our prisons."
He concluded by charging the hearing to come up with guidelines to ensure that plea-bargaining is deployed to serve the cause of justice.
In his presentation, Attorney General of the Federation and Minister of Justice, Mr. Mohammed Adoke recollected that the federal government spent about N8.723 billion on prison decongestion between 2006 and 20011.
But he lamented that the efforts went unrewarded because the Police indiscriminately arrested and detained people over non-capital offences and without proper legal machineries to prosecute the cases.
"Approximately 80 per cent of inmates in Nigerian prisons were Awaiting Trial Persons (ATP)," he noted. "There were over 40, 000 ATPs in the prisons, most of whom are standing trial for offences such as armed robbery and culpable homicide."
He argued that many of the ATPs have no business with being in prison if care had been taken to properly and dispassionately evaluate the offences or allegations made against them.
Similarly, chairman of the Joint Committees, Senator Umaru Dahiru described the state of prisons as "appalling," lamenting that "detention centres are indiscriminately used in keeping all classes of suspects, including those who may not necessarily be behind bars for punishment but rather for reformation."