Again, Jonathan Beats The Drum For 'Best-Candidate' Iweala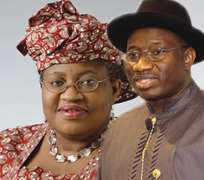 ABUJA, April 02, (THEWILL) - In a move that is nearly certain to run to April 20, 2012, President Goodluck Jonathan has again publicly expressed support for the candidature of finance minister and coordinating minister of the economy, Dr. (Mrs.) Ngozi Okonjo-Iweala for the presidency of World Bank.
In a Monday statement released by his special adviser on media and publicity, Dr. Reuben Abati, Jonathan expressed pleasure with the "staunch support and universal acclaim" that Okonjo-Iweala's nomination had been generating.
"I am particularly appreciative of the strong endorsement and proactive backing for her candidature as Africa's nominee for this very important position by fellow Heads of State across the continent, the African Union Commission, ECOWAS and African Ministers of Finance, Economy and Planning," he said.
"It is noteworthy that other developing countries, prominent individuals and organisations across the globe, including development experts, national and international media, think tanks, and civil society groups, have been very supportive of her nomination."
Jonathan acknowledged the positive role played by the legislature and the media in lending strong support to her candidature, saying the efforts have given Okonjo-Iweala's campaign a tremendous momentum.
He argued that the leadership of the institution matters greatly and must be chosen with utmost care, because the World Bank, as a preeminent development institution, is well-positioned to play an important role in partnering with developing countries to promote growth, tackle poverty and uplift living standards.
"It matters even more in a complex, increasingly inter-connected global environment characterised by volatility and uncertainty," he said. "It is for this reason that there is a resounding call to ensure an open, transparent and merit-based process in the election of the World Bank president, which our country aligns with, and which has been promised by the G-20 Countries as well as the World Bank's Development Committee."
Jonathan also expressed belief that Okonjo-Iweala's knowledge and expertise, as well as the depth and breadth of her experience, make her the best candidate to lead the World Bank.
His words: "She has firsthand experience of managing complex financial and economic development issues at national and international levels, deploying her skills with demonstrated passion, commitment and professionalism.
"She has also shown a high degree of innovation and drive, while exhibiting a strong ability to integrate and manage interwoven problems of development in infrastructure, agriculture, health, education, and other sectors in her expanded role as coordinating minister for the economy.
"I am firmly convinced that Dr. Ngozi Okonjo-Iweala's leadership will be beneficial, both to the World Bank and to its principal stakeholders. I also believe that it would be immensely beneficial to Africa and the developing world at large. Nigeria urges that her candidature receives fair consideration in an open, transparent and merit-based process, which should be embraced by all stakeholders."