Stock Futures Flat On Europe Recession Worries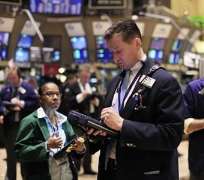 Stock index futures were flat on Monday after weak manufacturing data out of Europe raised fears about a recession in the region.
The euro zone's manufacturing sector shrank for an eighth straight month in March, according to Markit's Eurozone Manufacturing Purchasing Managers' Index.
In contrast, Chinese manufacturing gained momentum in March, helped by a recovery in the automotive, tobacco and electronics sectors.
S&P 500 futures slipped 1.4 points and were in line with fair value, a formula that evaluates pricing by taking into account interest rates, dividends and time to expiration on the contract. Dow Jones industrial average futures lost 10 points, while Nasdaq 100 futures off 2 points.
Stocks closed their strongest quarter in more than two years on a positive note on Friday, led by underperforming sectors, including energy and health care.
Despite falling six of the last nine sessions, the S&P 500 gained 12 percent in the first quarter, its best start of the year since 1998 and the best overall quarter since the third period of 2009. The broad market average sits just off 4-year highs.
On the macro front, investors will be watching the U.S. Institute for Supply Management's March manufacturing index, due at 10 a.m. EDT (1400 GMT). Economists in a Reuters survey expect a reading of 53.0 versus 52.4 in February. The market also awaited construction spending for February, due at 10 a.m.
The oil sector will be in the spotlight as French oil major Total SA (TOTF.PA) prepared to fly experts to a North Sea oil platform ahead of an operation to cap a well spewing gas for the past week.
Oil futures dropped about 0.5 percent, with Brent crude slipping below $123 a barrel, following a 14 percent rise in the first quarter.
Equity markets will be closed at the end of the week for the Good Friday holiday, which could create lighter volume and increase volatility. The government will still release the March payrolls report, which could leave investors reticent to make big bets ahead of the data. Trading volume was expected to be light all week.
Visa Inc (V.N) dropped payment processor Global Payments Inc (GPN.N) from its list of approved service providers after a major cyber intrusion. Visa, MasterCard Inc (MA.N), American Express Co (AXP.N) and Discover Financial Services (DFS.N) all confirmed they were affected, which could expose their cardholders to fraudulent charges.
REUTERS