NOT EVERY WOMAN NEEDS MAKE-UP-OLALEYE, FLAWLESS TOUCH MAKEOVER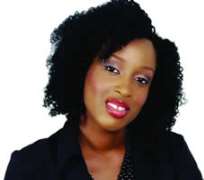 Like an undercurrent gradually building strength beneath the surface of the water, the name Love Olaleye will soon be known across the country. For now, her works speak out loud from a distance. With a lithe body, Olaleye is the brain behind Flawless Touch Makeover, a personal care company that gives women the looks that make them sparkle.
Whether she is working as a female celebrity's private make-up artiste, helping to bring characters to life by transforming TV personality or enhancing the faces of runway models, Olaleye is always on the go. In this interview, the Chemical Engineer-turned make-up artist talks about her sojourn in the world of beauty. She also reveals how she has been able to hold her head high despite the odds. Excerpts…
How long have you been in this business?
I have been in it since 2007. This is exactly my fifth year.
What did you study in school?
I read chemical engineering.
And you dumped chemical engineering for make-up?
Well, yes. You see, this whole cosmetics thing is still an aspect in chemical engineering that most people don't know. Chemical engineers are involved in cosmetics. Your hair cream, soap and so on - so you never can tell.
How did your parents react to this?
It was very positive. My mum particularly is a very supportive person. She is not the regular rigid parent that will say you must do this or that. As long as you are sure of what you really want to do you will have her backing.
So, why did you choose make-up as business?
Well, I have always been artistic as a child. When I was in the primary school, I was the best student in arts. As a child I tilted towards arts. I used to write stories a lot.
How did you get into the make-up business?
Like I said earlier, I had been artistic as a child. Also I used to watch my mum make up her face and I enjoyed it. But my mum never allowed me to touch her make-up until I was 18. It was a taboo for her; I couldn't touch her lipstick not even lip-gloss. But as soon as I got my freedom, I explored it. When I did my face in school, I had people saying that they loved it. Also I loved to combine because when you are artistic you will want to create and create.
I also think my engineering background helped me because make-up has to do with precision. Especially to get your brows well, you need precision. You have to have eye for straight lines. You know that in engineering you have to do technical drawings and your lines must be straight, angles and so on. I think that aspect of engineering has helped me a lot.
At what point did you take this up as a full time engagement?
When I started getting encouragement from people and I had my husband's support too. I found out that whenever I did something they liked it and told other people about me. When thjs started happening I felt that I could not just stay idle. Considering that I loved what I was doing, I decided to get serious with it. From that time I never looked back. (Laughs).
What was your first make-up job?
It was nice even though at that point I felt I didn't really do well because make-up has grown now. I was quite inexperienced but the bride still says thank you till date. Looking back, I think the confidence with which I approached the assignment made it all come out nice and people said so. After that job I got another one and so on. So if I could get job from referrals it meant that I was doing well. Since I have started straight commercial, I have gone to school to learn more.
Did you get any training and where were you trained?
From the time I took it up as a business, I went to school to learn more about make-up. I trained with Brush Strokes and when I was done with that I still took an online course with a make-up institute in Spain. Besides, I enroll for courses every year because there is no assumption here. I make sure I add knowledge every year. Although some people are self-trained, I don't know how they do it. Maybe because of my engineering background, I felt I should get properly trained.
What's so 'technical' and special about make-up that you need to brush up your knowledge every year?
The truth is that there are some techniques you just can't assume anything. Okay, I apply make-up and you do too. If I give you the same make-up I used, we might not come out with the same result because people can tell the difference. The simple reason is that you don't know the techniques I used to achieve the result I got. Some techniques cannot be assumed. Clearly there is a difference between professional and amateur make-up. You can't assume facial reconstruction.
So what does it take to become a make up artiste then?
You need to have the passion and get professionally trained. Again, if you are artistically inclined it will help but if you are just a straightforward person with no love for art you might find it a bit difficult. If all you think about is making money then you are in the wrong profession because the money might not come as quickly as you have planned and you may not survive. You must be willing to research and experiment with colours. Don't assume that you are good because people look at make-up from different angles and people know good make-up when they see it.
You work mostly on weekends. So what do you do week days?
Yes, we do mostly bridals during the weekends and training during week but not every day of the week. At least three times a week.
How do you juggle your career with being a wife and mother?
It's God that makes it possible and the fact that I have an understanding husband because most weekends I'm hardly at home. For instance, between January and March I have hardly been at home during weekends. So I always try to balance up during the week. I know what my husband likes. He always likes his food cooked by me, so I faithfully ensure that I prepare it myself.
Nobody does that part because he won't eat it. Concerning the children, I always make sure I sort them out and guide them through their home work. The rest we will always make up with time. But my husband is very understanding because sometime I even have to travel out of town. Sometimes he drives me there and he doesn't give me headache. He prays for me and gives me advice. Even when I am not available during the weekends he stays with the kids.
How did you guys meet?
We met in the church some seven years ago.
What makes your jobs stand out?
I try to upgrade and I know what I do. I make my boast in the Lord and I don't assume some things that come up in make-up. I emphasize training. You know they say innovate or die. For me it is innovation. I research a lot. Look at what I did last year and what I have done this year, you will see a difference. I also get to find out what is the latest make-up brand in town, what can enhance my job, what is the new trend and technique.
Must every woman wear make-up?
The answer is yes and no. No, if you have good chocolate, velvet skin you don't really need make-up. But if otherwise you need to wear make-up.
Who inspires you in the industry?
Banke Meshida Lawal. Her jobs are fantastic and I make sure I follow her jobs.