After Kidal, Mali Rebels Close-in On Gao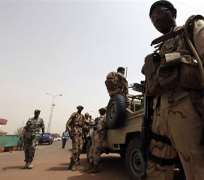 SAN FRANCISCO, March 31, (THEWILL) - Less than 24 hours after gaining stranglehold over the city of Kidal, rebels in Mali — comprising secessionist nomad Tuaregs and local Islamists — have entered Gao and are on the verge of completely taking it over.
This leaves them with the historic trading city of Timbuktu as the last of the three main regional centres in the north left to be conquered.
Kidal's seizure and Gao's closing-in have come within a day of a distress call by Mali's military junta, which on Friday morning appealed for international help in the "critical" task of overpowering the surge of Tuareg rebels in the north.
"Our army needs the help of Mali's friends to save the civilian population and the Mali's territorial integrity," Captain Amadou Sanogo, leader of the junta had pleaded during a news conference in the capital city of Bamako.
By Saturday, scores of truckload of rebels entered Gao with heavy arms in a move that again validates the counter-productivity of last week's military coup for an army supposedly protesting deposed president, Amadou Toumani Traore's handling of the crisis.
The rebels are reported to have hoisted their Azawad flags while entering it, shouting "God is Great" in Arabic, amid the firing of heavy weapons.
In the wake of the impending loss of the entire north to the Tuaregs, Mali's military junta, already tottering on the brink of severe travel and economic sanctions from neighbouring African countries, has delegated three of its members to hold talks in Ouagadougou with Burkina Faso president, Blaise Compaore, named by West African leaders as the main mediator in the crisis.
Mali's neighbours, under the aegis of the Economic Community of West African States (ECOWAS), had on Thursday issued a 72-hour ultimatum for the junta to return power to the democratic government of President Toure, which was itself scheduled to give way this year after the conduct of elections in April.
"The following sanctions were agreed and shall be implemented within 72 hours by Monday, April 2, 2012 at the latest," ECOWAS commission president, Desire Kadre Ouedraogo had said, referring to "the closure of the gold producer's borders for all but humanitarian goods; the freezing of Mali's account at the central bank of the West African franc zone and restrictions on its negotiations with private banks in the region; an asset freeze and travel ban on individual junta members."
Meanwhile, the ousted president has extinguished growing tension over his welfare by announcing that he is safe in an undisclosed location in the landlocked country.