Exclusive: Brazil Prosecutor Plans Wider Offshore Oil Probe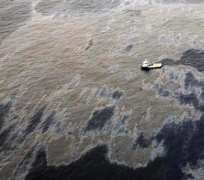 A Brazilian federal prosecutor plans to expand his investigation of a November offshore oil spill in a field run by Chevron to areas operated by other companies in the country's main oil region.
The probe will explore geological conditions and operational practices in the Campos Basin in an attempt to prevent future accidents, said Eduardo Santos de Oliveira, federal prosecutor for Campos, Brazil, the city for which the offshore oil province is named.
The biggest operator in the Campos Basin is Petrobras, Brazil's state-led oil company, which operates 39 of the 47 producing fields in the region, according to Brazil's oil regulator, the ANP.
"Now that the working environment has been created (by the Chevron spill), let's promote this debate and use the official investigation tools to try to understand this situation, including for preventative reasons," Santos de Oliveira told Reuters.
Santos in November launched a 20-billion-real ($10.9 billion) civil-environmental lawsuit against California-based Chevron and its drilling contractor Transocean. Earlier this month he filed criminal charges against Chevron, Transocean and 17 of their employees. The crimes alleged by the criminal case carry sentences of up to 17 years in prison.
Chevron is the No. 2 U.S. oil producer.
Other companies with exploration or production operations in the Campos Basin include Anglo-Dutch Shell, Brazil's OGX Petroleo, Spain's Repsol YPF, Denmark's Maersk Oil and UK-based BP.
The Frade field, operated and 52 percent owned by Chevron, is close to some of the largest oilfields in Brazil, including Marlim Sul, Roncador and Marlim, all 100 percent owned and operated by Petrobras.
The region is known to contain sub-sea rock that is porous and prone to cracking. If not covered with a natural seal that stops oil flow, petroleum can seep through it naturally to the seabed and then bubble to the surface.
"The Campos Basin is prone to natural seeps that can stain the ocean," said Cleveland Jones, a geologist at the National Oil Institute at the State University of Rio de Janeiro. "That, in fact, is one of the reasons that geologists knew that there was a good chance of finding oil there in the first place."
Such natural seeps are even more common in the Gulf of Mexico, Jones said. Most natural spills are broken up by wave and tide action and oil-eating bacteria.
POROUS ROCK
The porous and fragile rock is believed to have been a contributing factor to the November leak in the Frade field. Chevron said oil seeped from a crack in the bore of an exploratory well and worked its way through the rock to the seabed and then ocean surface.
About 3,000 barrels leaked in the accident, less than 0.1 percent of the 4.9-million-barrel BP spill in the Gulf of Mexico in 2010. None of it reached shore and an ANP official told Congress in March that the Frade spill caused no discernible environmental damage.
Chevron and Transocean say the criminal and civil charges are excessive, they have committed no crimes and acted according to accepted industry practice.
Petrobras also has a 30 percent minority stake in Frade, while a Japanese group led by Inpex and Sojitz owns 18 percent.
Chevron, with the agreement of its partners, asked for and received permission to stop production temporarily at Frade after discovering unexplained leaks in the field in early March.
Oil leaks were also found in 2004 at Petrobras' Marlim Sul field. Marlim Sul's production of 300,000 barrels a day makes it Brazil's top-producing field.
Petrobras said studies suggested the Marlim leak probably resulted from "the existence of natural faults and fractures in the reservoir where the oil migrated to the sea floor".
Santos says the Frade accident gives his federal prosecutors office, known as the Public Ministry, a chance to fulfill its constitutional role as an independent arbiter of government and economic activity.
"Whenever you have an accident of this type, it is normal that public agents concentrate on the accident to make those responsible take responsibility," he said. "But the recent accident is also an opportunity to seek to identify what is happening with the rest (of the area)."
REUTERS