MY EXPERIENCES RAISING FUNDS FOR FIRMS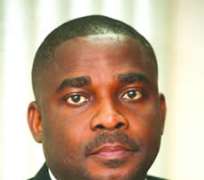 Despite the fact that he's no longer in the core-banking sector, the name of Mr. Michael Uchenna Chukwu still rings a bell. He was Managing Director/CEO, Guardian Express Bank, Spring Bank Plc and became the pioneer MD/CEO of the new bank. He was also general manager, operations and information technology, ACB International Bank (2001) as well as former assistant vice president, First City Monument Bank (1996).
Currently, Chukwu is into financial control and credit risk management, with Assetswise Capital Limited, a private equity firm. In this interview, he talked about the state of the economy and other issues affecting the banking industry.
You are the owner of Assetswise Capital Ltd. What is it all about?
Well, private equity is an aspect of financial services. It is actually a new area in Nigeria. Basically, what we do is to buy and sell companies. And the range of activities could involve, sometimes, working with start-up companies in which case we're dealing with venture capital. We assist such companies to raise capital; we assist them to set up their corporate governance. At other times it could involve buying into existing companies, in which case that kind of exercise will be regarded as a buy-in or a buy-out. You go into a company that is already existing and perhaps, the company needs capital to grow or to expand. At other times, it could be a company that is going into re-structuring, in which case you go into the company with new management, with new capital to re-structure the company and get it back on its feet. So basically, what we do, in trying to distinguish it from what banks do, is that we come in on the equity side whereas banks lend money.
Our business tends to be long-term; we specifically go in for three to five years. But having invested equity when the company has stabilised or the company has come of age, at that point we may decide to realise our investment and make money. So it's a business for those who are willing to stay in the long run because it takes time to tackle equity capital problems.
That means you will be having brisk business, as many companies in Nigeria are looking for funds, good management and opportunities like this?
You're absolutely right. Again, what I tell people is that in our business we run away from transactions and I will explain what I mean. Typically, banks run after transactions, looking for customers. But in our business you're likely to confront on a daily basis so many companies that are looking for capital, aiming to set up sound management mechanism and when they come to us, our business is to discern, using our risk management analysis, risk management system to decide which of these companies we want to deal with. So typically, out of every 100 transactions you evaluate you only do one.
How do you build your human resource? Do you have a training programme for the people you send to take over and run organisations?
Yes. Absolutely, training is a very important aspect of this business. Most of the time your customers come to you or companies that you eventually invest in come to you because they think you have management competence. So it's important that your staff have the flair and the competence to satisfy the needs of your customers or your clients.
And what that requires is constant training. We have both training on-the-job, which comes about through having a system of work, where the junior people in the firm have their work reviewed by the senior people and through that process they impart skills to them. And occasionally, we do send our people out to undertake off-field training, either with consultancy firms or training organised by other training firms.
How long have you been in this business?
We started December 2007. So we've done four years and we're in our fifth year.
What have you done since you started?
Well, typically, like I said, the essence of this business is quality and not quantity. So we have very few transactions, where we went in at the early stages and I will also mention one where we undertook a restructuring. There is one of these companies the Central Bank of Nigeria recently licensed to do mobile money. The company is called Eartholeum Network. It came to us because they needed capital and this was in 2008 and we invested with 45% stake in the company. And we've been with the company for three years going through CBN certification and eventually the company has been licensed by CBN to do mobile money services. There are only 11 companies the CBN has so certified and we're one of them. So we feel gratified that the company would soon launch commercially throughout Nigeria and provide mobile money services to Nigerians and we feel gratified that we made that investment. That is one of our success stories.
We also invested in a company called Cowry Assets Management Ltd. It's a stock broking outfit. We took a 10% equity stake in that company. In the past two to three years, the landscape for stock broking services has been very difficult but the company, I'm happy to say, is among the few that withstood the shake-out in the industry and is being re-positioned to become a market leader in stock broking and financial services in the capital market. We invested also in a company called Scintilla. Scintilla Ltd owns Scintilla Place and is an integrated entertainment company that owns an upscale events centre on the Lekki axis. They also operate restaurant services; they have a night club and they have an events centre and an auditorium that can accommodate over 1,000 people. We took 40% stake in the company from the start off and the company is in its second year of operations.
Then there's a company called Seric Impianti in Port Harcourt. The company is involved in waste management in the oil and gas sector. What they do is to take the waste product from oil exploration companies and process those waste products into an environmentally friendly material before they dispose of them. So they work for the oil majors. Again, we led a group of investors to take over the company from the original owner, who was retiring. After two years of due diligence work, we took over the company in 2010 and the company is being repositioned now with new management and new capital.
How do you source your funds?
Well, in private equity transaction, there are typically two sources of funds. One is the firm's initial funds or what we call proprietary capital, which it uses to support companies it is investing in. The second source of financing is where you approach those we call institutional investors. These are insurance companies, banks, pension fund administrators (PFAs) and high networth individuals and foundations. These are typically people who raise funds for investment purposes and who, typically, by law, are permitted to mobilise funds. For example, insurance companies, pension fund administrators and banks, etc. These people, in the regular course of their business, generate funds and they must find outlets for these funds. So what we do is to package companies and approach such investors and persuade them to invest in those businesses in so far as we are satisfied that the risks are acceptable.
Capacity building has been the greatest challenge in the country. How can this be solved?
You know typically, people say it's garbage in, garbage out. What I mean by that is that we need to go back to the basics. The Nigerian educational system has to be revamped; it has to be restructured and it has to be re-energised. And going back to the basics means that we need to reform the Nigerian educational system. And I'm happy that along that path government is already doing something. There is a roadmap that was established by government about two, three years ago under which government is undertaking to restructure the Nigerian educational system to make it more functional. So I think we really need to go back to the basics. We are churning out a lot of graduates, who are not only unemployed but are unemployable because they do not have the requisite skills.
Today, you need to have appropriate skills in IT; you need to have appropriate skills in business management; you need to have appropriate skills in global business practices. So I think there's the need to get the universities to look at their curricula and see how they can be updated to take into account the needs of modern-day businesses. But beyond that, I think there's also some obligation on companies to create capacity by opening up their workplaces to young people who can come in as apprentices and undertake some form of internship and within a period of time gather the skills that they require to operate successfully in businesses. Most management competences are learnt on the job. You learn by doing. So I also do think that today a lot of multinationals, a lot of big corporate companies that have well-established management practices can also get into some form of partnership with the universities under which students can be sent in to serve as interns and that capacity we're talking about will be developed. But going back to the basics, I think the Nigerian educational system needs to be revamped.
With Nigeria's human capital endowment and development, why is it we seem not to get it right?
Well, the problem has to be looked at in a holistic manner. We must agree that we've had 50 years of independence most of which was under military rule. And during that period a lot of what we consider to be the ethos, a lot of what we consider to be the ethics of the society were destroyed. I would say that we've also had a long period of discontinuity in our democratic practice. We got independence in 1960 and within six years there was a military coup. And after that we had, I believe, 32-33 years of military rule. We had a democratic practice for four years (1979-83). We had another long military rule, from 1983 right up to 1999. Now, good enough we've had 12-13 years of democratic practice; so I think that things are now getting better. We're beginning to see government that is more accountable and government that is beginning to respond to the yearnings of the people.
What are some of these yearnings? People are asking that we should give intellectualism a pride of place. I can tell you that there was a time when it was more profitable to be a driver in a bank than to be a professor in the university. And I'm talking about six, seven years ago, when in a bank a driver could earn a much more than a professor! So what do you expect? I do hope that with this renewed effort at entrenching democratic practice and at holding government accountable, we can elevate the quality of leadership and put intellectualism at the right platform that it deserves.
At present, unemployment has increased, factories are shutting down, banks are no longer funding the OPS, etc, while the Goodluck Jonathan administration is insisting on deregulation of everything. What's the way out?
I think that we must appreciate that deregulation is only one aspect of a reform process and I think we should be thankful that today we have a government, which carries, as its mantra, transformation. This means that we're going to have a long period of reformation, a long period of change. Now change is typically a process, not an event. People therefore, must be patient; it will be drawn out, painful but nevertheless it is something we must go through. Sometimes people think that deregulation implies an absence of regulation. It only means that the state of regulation is more democratised. It only means that the stifling environment is loosened to enable more participants come into any sector of the economy. The rules are made more amenable to enable capital feel encouraged to come into it. And it is something that happens when a government is coming out from the old system, where government dominated the commanding heights of an economy. And in the early 1960s and early 70s right up to the time when we had the effort by government to privatise industries we find that the commanding heights of the economy were owned and controlled by government. I'm talking about the banks, insurance companies, telecommunication companies, oil and gas companies and transportation, including aviation. Everything was in the hands of government.
These are companies that tend to create the largest concentration of employment in the economy. They include banks that tend to have the largest impact on the economy. So to the extent that we had government controlling those commanding heights (and we all do agree that government is not the most efficient user of resources nor the most efficient manager of businesses), it came to a point where those companies, in other climes, were not only generating profits bust also business concerns creating profits and values, whereas in our own case they became opportunities for siphoning money. It came to a point that in many instances, government had to make budgetary allocations to subsidise their operations.
So deregulation is important. It's, in fact, inevitable. Even countries that seriously operated state-owned businesses, such as the communist and socialist countries, like Russia and even China, are all beginning to come back to a market system that promotes efficiency.
Now what I think we need to do is to hold our government accountable to the process of deregulation that is transparent, that is open and that has integrity. That is the only way you're going to attract the foreign investment that we're talking about, because we also recognise that in certain sectors. For example, we don't have sufficient money to get into oil and gas as well as in power. Therefore, we need to encourage people to come in from abroad with foreign investments. However, it is only when you create the enabling environment that you're going to get foreign investment.
In any case, we're on the right track and I think the unbundling of the Power Holding Company of Nigeria is progressing now more steadily. We're beginning to see more steady steps being taken to unbundled PHCN, making it more economically relevant to the operations of Nigerian businesses. When that happens, the long-term effect is that the cost of doing business in Nigeria will come down and when that happens businesses will begin to strive. At that time, government can make pride that it created an enabling environment for sustainable businesses, which, in turn, will create employment, lower cost of doing business, lower cost of services and create a higher state of welfare for the citizens.
Don't you think the effect of complete deregulation would be tough on Nigerians?
Well, it's always difficult to say what should happen first. It's always like the chicken-and-egg question. What should happen first? Some people think that government has the responsibility to provide safety nets, create welfare for the citizens before it begins to embark on certain actions that would create hardship. At other end, the strategy is to first create that environment that would allow people to thrive. What am I talking about? I think we all agree that government control of the commanding heights leads to inefficiency and corruption, etc. We all agree that we need to infuse certain private sector principles and market-driven principles into the operation of government business, starting with commercialisation, and where it's appropriate outright privatisation.
That is the essence of what government is doing today and I think it should be commended. However, it must also be agreed that the essence of government is to provide welfare to the greatest number - the greatest good of the greatest number. That is what is supposed to be the object of government; so we must all agree on these. Now that government has taken the steps it has taken, like, the removal, or rather reduction of subsidy on petroleum products, we should hold government accountable to do those things it has promised to do with the savings. Those things are meant to provide welfare. Education should be affordable and has quality. There should be good and affordable healthcare. There should be infrastructure, including transportation, particularly transportation that will benefit the poor people. I'm talking about things, like railway transportation, agriculture and food security as well as housing for the generality of the people.
To provide all these things, government needs money. So that's why I said it's a question of where will that money come from at a time when there are competing needs for the very scarce government resources? We must accept that if government comes out with a credible programme that will lead to a long-term restructuring of the economy, that would allow private sector to come more into the dominant sectors of the economy, take control of those sectors, create wealth and employment, there will be lower cost of services in the long-term.
In the long-term, this will also create a high level of welfare for the citizenry. That is the way to go. But in the short term, there will be pains. We must all accept that there's nothing good that comes without sacrifice. And therefore, the message to Nigerians should be to bear with government. But nevertheless, they should be alert and hold government accountable.
In the absence of constant electricity, Nigerians use generators most of the time. In this circumstance, how would individuals and the organised private sector make progress and create employment opportunities?
Well, the fact of the matter is that the private sector is known to be a more efficient user of resources. And the reason is very simple. Unlike government, the primary objective of any business is to make profit, whereas government has other objectives beyond making profits. Indeed, the essence of government is not making profits; the essence of government is to create an enabling environment for order and security. Now, what you would expect generally is that once the enabling environment is there it would attract investments. Not only domestically but internationally. Water flows where there is the least line of resistance. So if government creates the enabling environment, what do we expect? We expect, for example, infrastructure, such as communication, which is already in place, and transportation. We need to have the railways work; we need to have a good network of roads. We want power. Indeed, that should be the greatest challenge for any business in Nigeria today. Therefore, we would expect that once government is able to deal with epileptic power supply it will encourage a lot of businesses to come into production. And once that happens, naturally, employment will be created.
So it is a sequence of events. When I hear people say government should create jobs, I laugh. Government will not manufacture jobs from nothing. Government can create an enabling environment for people to set up business that will create jobs. And one of the things you will find is that when the first step is taken, what happens is what we call the multiplier effect. When you will set up a company that manufactures, may be, sachet water, to take a very simple example; that business will need to get people to supply it with bottles and that creates an impetus for those who are in the bottling sector to do business. When you set up companies that are producing bottles, to support companies that are producing water, you create employment. Those staff will need vehicles to convey them to the office and that will create the impetus for transport businesses to thrive.
When staff are employed, that will create impetus for people building houses because there would be people who are taking those houses as tenants. I think going back to the basics, basic infrastructure is important because when you solve the problem of power, sort out the problem of network of roads and railways, things will improve drastically. I keep talking about railways because once we begin to industrialise we need to move large quantities of goods and services. And that means the current system of transportation, which thrives on motor vehicles can no longer suffice. So we need to have the railways work because all through history, all through industrial history railways lines are the means of transportation that enable the movement of large quantities of goods within a geographical space.
How would this be possible when government is running 70% concurrent deficit budget to grow above 3 to 5% GDP?
Well, it is true that the Nigerian economy has grown by at least five percent; in some years up to 10%. But we must also admit that that growth, if you like, is artificial. It is growth that is spurred by the ever-increasing price of crude oil. So to that extent, once we sell our crude we get higher export earnings and that fuels 'production' and activities within the economy. But we all must agree that that kind of growth is risky and indeed, it is not sustainable. It is open to the vagaries of the international oil market. It does not lead to actual production because what you find is once the oil is sold we bring in the export proceeds; we domesticate it and we share it out in the form of government revenue to the three tiers of government. And then it is now applied to pay salaries, which are now used to buy goods through importation.
Now, I would prefer to see a situation where the economy is re-structured first of all to achieve a diversification of proceeds or incomes away from oil. To have a mono-cultural economy, where oil proceeds are accounting for 95% of export proceeds and 75% of government revenue, is clearly risky and unsustainable. So I will expect that government policy should begin to encourage diversification of income. Let's get back to the earlier policies we tried in the 70s that we dumped in the 80s, which was basically import substitution. But this will only work when you get power and energy, because import substitution requires you to change the tone of your import business, away from consumer goods into industrial goods, so that we can begin to produce things that we consume domestically and through that process create employment.
Now if it's going to happen successfully, then the issue of power, like I said earlier, must be resolved. One of the reasons many companies fail in Nigeria is because the cost of doing business is clearly too high to the point that if you produce using generators or diesel your cost of production will be so prohibitive that you cannot compete with imported substitutes.
With the establishment of AMCON to take care of the banks' toxic waste, do you think there's still need for NDIC?
There will always be need for NDIC because the mandate of NDIC basically, is deposit insurance, as the name suggests, Nigeria Deposit Insurance Corporation. So deposit insurance is the main purpose of their existence. As opposed to NDIC, AMCON, as in other jurisdictions where similar institutions were set up, is a one off intervention agency to take care of distressed assets arising from a systemic banking failure. In US and Britain, where a similar institution had been set up, it comes in, relieves the banks of distressed assets, bad loans, etc to enable them concentrate on their regular business, which is to create loan assets and facilitate credit flows. And it is not surprising why that happens.
When we have a systemic crisis that affects the entire banking industry, banks slow down in granting new credits, either because they do not have the liquidity or because by law they're not permitted. You know there are certain prudential guidelines that stipulate that you cannot do new business until you clean up your books up to a certain point. So you find that when you have a systemic crisis, banks shut down their business; lending will stop and when this happens that means there's no credit flow. And when you don't have credit flow in an economy, the economy will shut down. What CBN or the government has done basically is to relieve those banks of the burden of those distressed assets, so that they can refocus on creating new credits, which can enable the economy bounce back into activity. AMCON, therefore, is a one off intervention body. It is conceivable that within 10 years, possibly within five years AMCON can go out of business because once they resolve the distressed assets issue they will go away until we have another systemic problem.
However, NDIC on the other hand has to be there all the time to ensure that the deposits that are created by all deposit-taking institutions, commercial banks, investment banks, microfinance banks, mortgage banks, are properly insured, so that in the event of the institution going under they can now step in and ensure that the depositors do not lose all their money.