EDO 2012: WHY PDP IS AFRAID OF OSHIOMHOLE -ODION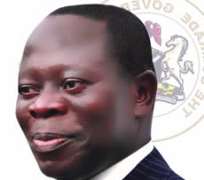 Against the backdrop of the emergence of Comrade Adams Oshiomhole as Action Congress of Nigeria (ACN) candidate in the forthcoming Edo governorship, Louis Odion, the state's Commissioner for Information and Orientation, spoke on emerging issues and the chances of his boss on July 14.
The primaries of Action Congress of Nigeria just held in Edo. What are your impressions?
As you may have seen or heard, it was quite a huge success considering the massive turn-out of party members. From the figures collated, we are talking of over 90 percent of membership of Action Congress filing out in the hot sun to endorse Comrade Adams Oshiomhole for second term in office, even though he was the sole candidate in the primaries. That tells you a few stories. It shows the unity of the party. That also demonstrates the zeal and readiness of the rank and file of Action Congress of Nigeria in Edo State to deliver and defend the candidature of Oshiomhole on July 14. It is an emphatic statement. For us, the large turnout that day is a taste of what to come. It is a dress rehearsal of what to expect on July 14 when Edo people will rise in unison to ask Oshiomhole to continue the good works he has started. With that overwhelming support, for the discernible observers, the issue now is no longer whether Oshiomhole would win. I think the question now is by what margin would he win? You are talking of a massive followership that is inspired. They won't just vote; they are also ready to defend their votes from being stolen.
But the main opposition party in the state, PDP, has said the process was manipulated, alleging that some members who had indicated interest in the governorship ticket were hounded out of the race.
That is a most illiterate and mischievous allegation to make. Check the Electoral Act; it clearly states that primaries must be held, whether it is a single aspirant that is running or not. So, for anyone to say that the primaries that held in Edo on March 17 was unnecessary is to carry ignorance to a ridiculous level. That I think is the problem with PDP in Edo. The quality of thinking is so pedestrian. Each time its agents open their mouths on any issue, they only succeed in advertising their provincial ignorance. As a matter of style, we will not dignify such infantile and puerile talk with a response. To start with, there is this popular saying that you don't change a winning team. Oshiomhole, as a brand, is widely accepted in Edo State. In fact, it is the only viable brand. That is the belief of not only the rank and file of Action Congress in Edo, but also the entire Edo public.
So why would a party as sensible as Action Congress then change the winning team?
On the contrary, we believe these comedians in PDP are envious of the orderliness and the sense of unity that attended the Action Congress primaries on March 17. I am sure you are familiar with details of what had transpired at PDP's state primaries on February 25. Whereas ours was peaceful and orderly, same cannot be said of PDP that ended with party stalwarts shouting 'Ole! Ole!! (thief!, thief!!) at the party leaders at the Sam Ogbemudia Stadium. I am sure you also heard how some of the candidates stormed out of the venue of the primaries in protest of perceived rigging and imposition. I am sure you also heard how the party leaders had to be shielded against sachet water hurled by irate party men who believed an unpopular candidate in the persons of General Charles Airhiavbere had been imposed on them. Now, compare that sordid spectacle with the order and sense of unity displayed at the primaries of Action Congress of Nigeria on March 17. Clearly, Edo people can now see who is the better democrat. If PDP cannot organise a free and fair primaries internally we can then imagine their capacity to engage in an enterprise as demanding as statecraft. We believe the significance of the primaries by Action Congress and PDP is not lost on Edo people who are very sensible, sophisticated and critical. Gone are the days when one godfather with his crooked fingers would fix things here. That political godfather has since passed his sell-by date.
With Oshiomhole's emergence as candidate of Action Congress, some believe that governance will now be in abeyance and that the pace of the ongoing projects will slow down. What is your reaction?
Ordinarily, that's is to be expected. But unfortunately, Oshiomhole is not just another governor. Not many have the kind of energy of Oshiomhole for work. He is a workaholic who put an average of 18 hours into official work daily. He is a hands-on manager. If you are not medically fit, you are not likely to keep pace with him. Here is a governor who personally monitors contractors on site across the state. He has said it time and again that the fact that election is coming does not mean governance will have to go on vacation. As I speak to you now, the governor is out inspecting storm-water master-plan project stretching across Benin City. When completed, the new integrated drainage system will substantially reduce flooding in some parts of the city. In any case, Oshiomhole does not have to campaign much around Edo again. Every where you turn in Edo today, every senatorial zone you go, each of the 192 wards you go, it is a construction site. So, everywhere you see a bulldozer revving, it is invariably campaigning for Oshiomhole. Everywhere Edo people see a bulldozer moving the earth, for them, it is a reminder that their state is working again, after years of inertia, after years of misgovernance by PDP, after many years in the bondage of a ruthless godfather. More importantly, this metaphor of a revving bulldozer is an assurance of more goodies Oshiomhole will do if given another term of office.
I tell you a small story.
The other day, we went on the inspection of road projects around the popular 5-Junction area in Benin City. Until now, that area used to be prone to flooding. It happened that that is where Chief Sam Ogbemudia lives. In all, the Oshiomhole administration has delivered 13 solid roads in that neighbourhood. You are talking of superb construction with solid drainage, complete with streetlights. At some point in the past, many landlords in the areas had abandoned their property. But with the rescue job the comrade has done, they are all back. Of course, that means the market values of their property have also appreciated. As we moved from street to street that day, you need to see the wild jubilation by residents. It was like a carnival. The elated youths were chanting: 'Osho Baba! Carry go!!' On hearing that Oshiomhole was around, many old women came out and were full of prayers for the governor. I was particularly moved to tears by the prayers offered by one of them. Raising her hands in supplication, the old woman, with full white hair, muttered in Bini: 'Oshiomhole, for ending the sorrow I normally suffer during raining season and for bringing life back to this community, may God Almighty grant you all your heart's desires and put all your enemies to shame.'
The inspection dragged on till evening that day. Before heading back to the office, the comrade governor decided to stop over at the residence of Ogbemudia to pay courtesy. By the time he was ready to leave Dr. Ogbemudia's residence around 8pm, a mammoth crowd had gathered outside the gate. They were all singing and dancing. They were saying: 'Osho Baba! Na you we want!!', 'Osho Baba, no shaking!!' The governor's security aides had a difficult task wading through the crowd to where the convoy had parked outside. Another vehicle had to be used as a decoy for the governor to leave that neighbourhood that night. That is the kind of fanatical following Oshiomhole enjoys in every part of Edo State today. So, you can see why those who depend on rigging are now jittery. For they know these youths are ready to defend their votes. So, to answer your question directly, Oshiomhole does not need to campaign much before the next elections because his good deeds had long started to campaign for him in all nooks and crannies of Edo State.
It is certain electoral campaigns will kick off formally in the coming weeks. What do you think will be the issues?
The central issue is already clearly defined. It is about performance. Funny enough, efforts were made by PDP and its jaded godfather to ethnicise the debate initially by seeking to make Bini indigeneship the issue. That explains why the restless godfather, Chief Tony Anenih, exerted all his powers to impose a journeyman in the person of retired General Charles Airhiavbere on Edo PDP as governorship candidate. He thought that by making a Bini man a candidate, that will incite people in Edo South against Oshiomhole. But I tell you that even within PDP, that idea did not wash because Airhiavbere lost four of the seven local government in the primaries. From what is now known, the wide margin that was eventually allocated to him came from Edo Central, where Anenih hails from and Edo North. So, if the man is not even popular enough to win the support of people from his area within the party, how do you then expect him to deliver Edo South to PDP on July 14? It simply beats my imagination.
In fact, to tell you how unpopular he is, only last week, people of his community in Egor publicly disowned him and declared that it is Oshiomhole they would vote for on July 14 on account of massive projects the governor has undertaken in their community in the last four years. One of the reasons they cited was that General Airhiavbere never did any thing to assist the community while he was in service. Particularly, they cited one instance when they had issue over their land and so sought the intervention of the General. Rather, the General reportedly shut his doors on the delegation the community sent to meet him. That tells you the kind of person he is. Of course, these are the kind of people Chief Anenih would rather promote, for the simple reason that if they manage to rig their way to power, they would only be loyal and answerable to the godfather and not the people.
Again, there is also a big question about his suitability to have contested the primaries in the first place. According to Kenneth Imasuagbon, the man who came second in that sham primaries and who many believe actually won the race, Airhiavbere was not fit to contest the PDP primaries. Imasuagbon has threatened to go court. Today, the sole credential the PDP freeloaders are flaunting about this man is that he has deep pocket, as if Edo people are available to be bought. You see, that is the mentality of PDP. But the Edo people of the 21st century don't think that way anymore. As far as the coming election is concerned, I think Edo people will have to judge which party deserves to win between a party that was in power for nine and a half years and failed woefully to do anything, and the one that has improved their lives within four years. For instance, in nine and a half years, PDP had placed embargo on employment resulting in massive unemployment of our youths. On the other hand, within four years, Action Congress under Oshiomhole has created more than 20, 000 fresh jobs in the public service. For nine years, PDP, under the toxic inspiration of the godfather, allowed all our public schools to rot away. In many cases, the kids had to receive lessons in classrooms without roofs. In many cases, the kids had to receive lesson sitting on bare floor. The public school system was allowed to collapse. But under Oshiomhole, confidence in public schools has been restored through massive construction of new classroom blocks across the three senatorial zones of the state. In fact, the common joke is that in some rural communities in Edo today, the new classrooms constructed by Oshiomhole are perhaps, the most attractive structures you will find with their exquisite finishing. That is the kind of innovation Oshiomhole has brought to bear in Edo.