Four Killed In Suspected Boko Haram Bank Robbery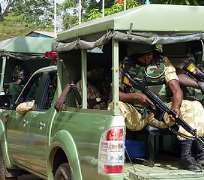 MAIDUGURI, March 30, (THEWILL) - A double-edged bank robbery and police station assault masterminded by men suspected to be adherents of the Boko Haram Islamist fundamentalist sect in Maiduguri on Friday claimed the lives of four people, one of whom is a policeman.
According to Malam Yuthama, a local government official in the north-eastern state of Borno, the gangsters raided a branch of the United Bank for Africa (UBA) in Askira town early in the morning, gunning down two people; and later attacked the local police station, where an officer and a civilian were shot dead.
The latest attack follows Wednesday's invasion of a makeshift military base, a prison and the Damagun police station in neighbouring Yobe State, where the sect freed 14 of its men who were in detention. The one-hour onslaught also left the residence of a group of Korean nationals in the town torched, with Police sources claiming to have put down two of the gunmen in the shootout that ensued.
Men of the Joint Task Force (JTF) have of late been carrying out house-to-house searches in Boko Haram's base town of Maiduguri, the capital of Borno state, in an attempt to flush out the group who are demanding the unconditional release of its members in Police members as a precondition for its already failed negotiation with government, and who are also determined to entrench Islam as the only religion in Nigeria's multiethnic and multi religious populace.