Akwa Ibom Prominent Business Woman Kidnapped In Eket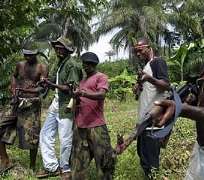 EKET, March 29, (THEWILL) – Notorious kidnappers have again struck in Akwa Ibom State despite efforts of the state government to curb the menace.
A prominent business woman and owner of De Clemency Nigeria Limited, Mrs. Chinasa Ngokere was abducted on her way to church Thursday by yet to be identified gunmen in Eket Local Government Area of the State.
Chinasa, who owns a water treatment and packaging plant in Eket was taken by six gunmen who also wounded her husband, Mr. Clement Ngokere, during her abduction.
A family source later told THEWILL that the kidnappers have established contact with the family but were yet to make a demand.
Narrating how the woman was taken, the family source told THEWILL that the gunmen raided the couple at the entrance of their compound in Afaha Uqua area of Eket. The source further said they took her after overpowering her defiant husband before speeding off in a waiting vehicle.
Police spokesman ASP Onyeka Orji confirmed the incident adding that the police had opened investigations into the crime.