House Worried By Uncontrolled Immigration Of Nigeriens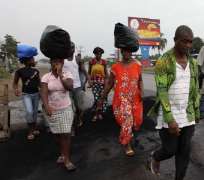 ABUJA, March 29, (THEWILL) - The Federal House of Representatives on Thursday expressed concerns over the increasing number of Niger Republic nationals migrating into the country, warning that the trend portends negative consequences for border communities.
It, therefore, urged the federal government to urgently provide food and water aids to the communities and the immigrants, and also mandated its joint committees on public safety and national security, foreign affairs, interior and police affairs to investigate the massive migration and determine its resultant effects.
This was the outcome of a motion sponsored by Hon. Abdullahi Balarabe Salame, who cautioned that continuous inaction on the issue may lead to breakdown of law and order in the affected communities, and it could spread to other parts of the country.
"The serious drought that affected neighbouring Niger Republic last year and caused shortage of food and pasture for livestock is the major cause of the massive immigration into Nigeria," he noted, saying that "the situation has overbearing food and security challenges on Nigerian-Nigerien border communities, which are compelled to host the migrants."
Salame expressed worry that some of the migrants may also use the opportunity to perpetrate criminal activities not only in these communities, but anywhere else in the country, there worsening the already volatile security situation".