Senate Decries Huge Population Of Awaiting-Trial Prisoners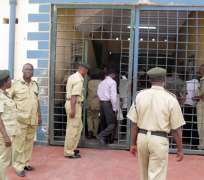 ABUJA, March 29, (THEWILL) - The Federal House of Representatives on Thursday howled its disapproval of the ever-growing population of people languishing in prisons all over the country without undergoing trial.
Noting that a whopping 36,217 persons presently fall into the category, the lower legislative chamber resolved to conduct a public hearing on how to reverse the anomaly.
Adopting a motion brought by Hon. Daniel Effiong Akpan, the House mandated its Committee on Interior, and Committee on Justice and Judiciary to conduct the hearing.
Akpan, disclosed that Nigerian prisons currently have a population of 73,670 inmates, out of which 36,217 are yet to be tried.
"The high population of persons awaiting trial is due to gross dislocation and inefficiency in the linkages of the roles and responsibilities of the institutions saddled with administering criminal justice in the country," he lamented,
"Majority of those awaiting trial are of productive age. And they end up joining criminal gangs during the time they are locked up with hardhearted criminals while awaiting trial."