Mitee of Embezzled N470m, MOSP Faction Writes EFCC, Jonathan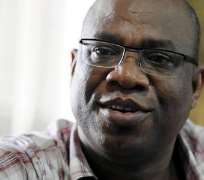 SAN FRANCISCO, March 29, (THEWILL) - Deepening divisions in the Movement for the Survival of the Ogoni People (MOSOP) were on Thursday again exposed when a faction of it alleged the "disappearance" of N470 million under the erstwhile leadership of Barrister Ledum Mitee.
The money was reportedly donated by former president, Chief Olusegun Obasanjo, the Rivers State Government, and President Goodluck Jonathan, in his capacity as governor of Bayelsa State.
In a letter to the Economic and Financial Crimes Commission (EFCC), leader of a faction of the group, Mr. Goodluck Diigbo revealed that N170m of the fund was meant for the erection of an edifice in memory of Ken Saro-Wiwa and other Ogoni martyrs, but it was never executed.
However, the said memorial building is the same one situated in Bori, completed and commissioned last year during the Ogoni Day celebration.
Speaking with THEWILL, Mitee, the man accused of mismanaging the money, laughed off the allegations, saying he would not join issues with anyone on the allegations of Diigbo in the petition.
"I do not respond to things like that," he said. "I don't get involved in stupid things. If somebody says that some money is missing you should be able to investigate to ascertain the veracity of his claims. If money is missing, where was the money coming from? Who gave it? These are things you should try to find out."
Also, in an open letter to President Goodluck Jonathan, made available to THEWILL, Diigbo accused the leader of the other faction, Professor Ben Naanen of fronting for Mitee.
"Naanen is clearly fronting for Mitee to cover up constitutional violations before the court of law and massive frauds before the Economic and Financial Crimes Commission.," he said. "Any responsible government cannot ignore the amount of fraud that Mitee and Naanen are fighting so hard to cover up."
Diigbo similarly dismissed the MOSOP Provisional Council as not existing, saying that no one should be fooled into thinking that discussions with Naanen on any outstanding question on the Ogoni situation would yield any positive result.