Clinton Will Take Nigeria to Task on Corruption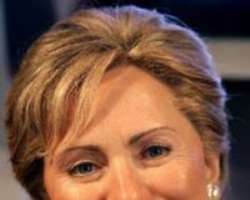 U.S. Secretary of State Hillary Clinton arrived Tuesday evening in Nigeria, where she will hold talks with political and business leaders and address, among other issues, the shoddy electoral process, weak investment climate and rampant corruption in Africa's second-largest economy.
Entering the backstretch of her seven-nation African tour, Mrs. Clinton is expected to echo the theme of gently reproaching African countries laid out during U.S. President Barack Obama's visit to Ghana last month.
"Nigeria is probably the most important country in sub-Saharan Africa," Johnnie Carson, the State Department's top official for Africa, told reporters on the eve of Mrs. Clinton's tour. "It is also a major source of petroleum imports. ...U.S. investment in Nigeria in the oil production and service industry is well in excess of $15 billion." Nigeria is the fifth-largest supplier of oil to the U.S., and its "light sweet" crude oil is prized for the ease with which it is converted into gasoline.
"We are concerned about having a good energy relationship with them," Mr. Carson said. "We'd also like them to address issues of corruption and transparency. When there is an absence of transparency and when there is a great deal of corruption, it makes the business environment extremely difficult."
Nigeria is the most populous nation in Africa and was long its biggest oil producer, until Angola recently overtook it. But Nigeria is facing numerous domestic problems.
Unrest in the oil-producing Niger Delta, where militants have shut down more than one million barrels a day of oil with pipeline attacks, has cost the government billions of dollars in revenue and dented interest from foreign investors.
Clashes last month between a homegrown Islamic fundamentalist sect and security forces in northern Nigeria left more than 800 people dead, including the group's leader, who was killed while in police custody.
The sect, known locally as Boko Haram, meaning "Western education is prohibited," has attracted an increasingly devoted following over the past several years amid poverty and disillusionment with the local political and religious leadership.
During her visit, Mrs. Clinton will meet with President Umaru Yar'Adua, whose 2007 election was widely condemned as flawed by local and international observers.
Mr. Yar'Adua, already facing significant obstacles and criticized for his slow-moving government, is scheduled to travel to Saudi Arabia on Friday for medical treatment.
Despite these issues, in the lead-up to Mrs. Clinton's visit, Nigerian politicians have focused primarily on the perceived snub by Mr. Obama in choosing Ghana instead of Nigeria for his first trip to Africa.
Earlier Tuesday, in the war-torn eastern region of the Democratic Republic of Congo, Mrs. Clinton pledged $17 million to assist victims of sexual violence. After Nigeria, she will head to Liberia and the small, stable nation of Cape Verde.
By: Will Connors