NDLEA Seeks Police Help Over Alleged Suspect Killing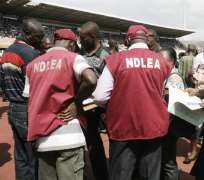 UYO, March 27, (THEWILL) - The National Drug Law Enforcement Agency (NDLEA) in Akwa Ibom has called on the new police commissioner, Mr. Umar Gwadabe to assist in unravelling the death of a female suspect who died in the agency's cell recently.
THEWILL can report that Mrs. Alice Bassey died on the way to hospital after she collapsed in NDLEA custody over possession of 5kg of Cannabis in January.
According to the NDLEA state commander, Mrs. Josephine Obi, the family of the deceased has refused that an official autopsy be conducted to determine the cause of the woman's death.
Obi said that the autopsy would help unravel the truth behind the suspect's death as there have been insinuations as to the real cause of her death.
"The family has pinned the death on us. They had been saying that our officers beat her up and that caused her death.
"So I employ you to use your good offices to get the autopsy done so that the truth behind the issue is known," she stated.
Meanwhile the agency has identified drug abuse as one of the challenges undermining human health and security in the society today.
Addressing parents, guardians and community leaders during a drug free counselling clinic at Ikot Ekpene, Obi explained that drug abuse has remained a source of concern to governments all over the world, calling for collective action from all stakeholders to eradicate the menace.
"Drug abuse opens the doors to anti- social and criminal behaviours such as armed robbery, kidnapping and rape, and for the society; to enjoy freedom from these social vices all hands must be on deck to campaign against drug trafficking and subsequent abuse in our neighbourhood," Obi advised.
She explained that the clinic was to create awareness for parents, guardians and every community leader on the dangers of drug trafficking and abuse and also provide them with correct information and assistance needed to pass on the message.
She pointed out that once a demand reduction was actualized that the market would automatically reduce, stressing that the agency was more concerned that people should stay drug free, as rehabilitation of drug victims is usually unrealisable.
Speaking, the Ikot Ekpene Area Commander, Mr. Okenla Adebayo explained that cultivating producing illicit crops threaten the environment and put consumer's lives at risk, even as the trade undermines the rule of law.
Adebayo who noted the importance of detecting the early signs before it got out of control, listed some of the signs to include, possession of the drug itself whether in plant, powdery, seed, or tablet form, unusual use of perfumes, air fresher, chewing gum, incense as cover-ups to suppress the odour.
He therefore appealed to parents, guardians and the general public not to fail to bring persons with such early signs for counseling, saying, "Early detection and recognition of the signs and prompt intervention go a long way in helping to redress the problem associated with drug abuse."