Senate Warns Mali Soldiers of Severe AU, ECOWAS Sanctions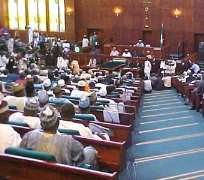 ABUJA, March 27, (THEWILL) - The Senate on Tuesday warned the soldiers who forcefully seized power in Mali last week to quit immediately or risk the wrath of all global democratic states and institutions.
In one voice, the senators condemned the military insurrection in the West African country and cautioned the coup plotters to immediately restore power to the democratically elected government of President Amadou Toumani Toure.
It urged the Economic Community of West African States (ECOWAS), the African Union (AU) and the European Union (EU) to slam appropriate sanctions on the country should the military fail to heed the directive,
The upper legislative chamber also congratulated the new President of Mali, Macky Sall, and the people of Senegal for upholding the tenets of democracy in Africa. But it advised the new government to work hard to enthrone good governance without which the nation stands the risk of having the Malian experience.
The Senate resolution was sequel to a motion of urgent national importance sponsored by Senate Leader, Victor Ndoma-Egba.
"Clearly, we need to show leadership; and it is not just leadership by words but leadership by deeds. And if we are able to put together ECOWAS, even though we are not in government now, to come out in whatever way to let the Malians know that we cannot fold our hands and allow abuse of democracy, then we should be able to do it, Senate President, David mark said. "It is true that coups were common in those days, but is an aberration now."
Earlier Ndoma-Egba described the scenario playing out in both countries as "darkness in Mali and dawn in Senegal." He hailed the emergence of President-select, Macky Sall but expressed sadness at the military insurrection in Mali.
"The military intervention has caused crisis in a country whose economy is aid-driven," he lamented. "For legal reasons, the military interference in the government of Mali should not be termed coup but insurrection because when it is called a coup, it would imply that the constitution has been set aside."
The Senators took turns to condemn the power seizure and cautioned the federal government to be mindful of similar occurrence in the country by delivering good governance.
"Nigeria should draw lessons from the unfortunate incidence in Mali, which has been a democratic state for about 32 years," Senator Abdul Ningi warned.