DICKSON AND SYLVA MEDIA AIDES BATTLE OVER GOVERNMENT PROPERTY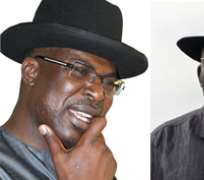 •Sylva & •Gov Dikson
Since the inauguration on February 14, 2012 of a new government in Bayelsa state, the Governor Henry Seriake Dickson led administration has tried to convince Bayelsans that its primary focus was to face the present challenges of governance and not  a peep into the record of activities under the former administration of Chief Timipre Sylva.
However the allegation by the former Chief Press Secretary to Sylva, Mr Ola Doifie that his house was invaded by some people claiming to be a task force set up by the government and a response from Mr Daniel Iworiso- Markson foreshadows the tensed political environment that would grip Bayelsa state as it inches closer to April 20 when the Supreme Court would give its verdict on the Bayelsa governorship issue.
Investigations conducted revealed that most of the appointees of the new administration use their personal cars and those that do not have hire cars because Dickson is not disposed to buying cars considering the discovery that some elements cashing in on the Supreme Court verdict that ended Sylva's tenure illegally moved away with government vehicles.
For instance all the brand new and old cars in the pool of the disbanded Operation Famou Tangbei cannot be traced again. This check indicated prompted the Special Adviser on Security to the Governor to set up a team to recover the vehicles. It was this team that went to Ola's house and caused a public row between him and Dickson's spokesman.
According to Ola in a statement titled 'Before I am harmed', 10 men including four armed policemen invaded his private residence at Edepie- Yenagoa and introduced themselves as a task force team set up by Dickson to recover government vehicles in possession of officials that served in the last administration.
He explained that the team insisted in taking away two cars in his compound including one that belongs to a serving member of the Bayelsa state House of Assembly.  After much shouting the team eventually left with the car and his house manager who he claimed was detained for three hours at the Government House.
Ola described the invasion of his house illegal, and he read political undertones to it as attempt to intimidate Sylva former aides because of the case in court.
Hear him: 'I find the invasion of my private residence by agents of GovernorDickson completely preposterous, unwarranted and illegal'
However Iworiso- Markson has accused Ola of making a heavy weather out of the incident that happened in his house which he said was avoidable if former government appointees had responded to several calls by the new administration to return government property in their possession.
Iworiso- Markson in a statement 'Purported invasion of residence of the former CPS' said instead of rushing to the media to report the incident, Ola should have reported the matter to the Police which is constitutional empowered to investigate the matter.
He lamented that the government would not accept a situation whereby government property would be carted away by persons linked to the former administration.
Iworiso- Markson captured it better: 'Let me state clearly that as a government we will not be drawn into issues that are clearly designed to distract us. Political appointees holding on to government properties one month after leaving office, even with repeated appeal on radio for them to return such properties, are not being fair on government. It does not portray them as responsible if they decide to withhold such properties.