Nigeria To Provide More Incentives For Investors - President Jonathan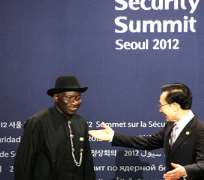 SAN FRANCISCO, March 26, (THEWILL) - Nigeria is determined to attract international companies willing to invest in it, by reviewing current incentives to investors.
Speaking to a delegation from Samsung Heavy Industries, Korea, during a courtesy call on the sidelines of the Nuclear Security Summit in Seoul, President Goodluck Jonathan said that he had instructed the Ministry of Trade and Investments to review trade incentives for investors willing to come to the country.
"We are willing to support you to establish industries in Nigeria, and I have instructed the Ministry of Trade and Investment to review the incentives available for investors coming to the country," he said, according to a statement by Musa Aduwak on behalf of the president's media adviser. "Our administration is determined to create more jobs for teeming Nigerian youths."
He also stated that government has been diligent in implementing the local content law in order to build the capacity of its citizens, strengthen the industrial base, and provide jobs.
The President expressed appreciation to Samsung for its "significant" contributions to the development of the country's economy, further requesting the electronic company to consider increasing the number of Nigerians being trained and the duration of the training.
Earlier, Mr. In Sik Roh, President and Chief Executive Officer of Samsung Heavy Industries, expressed appreciation for the privilege to construct the Bonga Oil Platform. He revealed that the company is already set to commence the training of 20 Nigerians next month.
At a separate audience, President Jonathan told Daewoo Engineering and Construction Company that efforts are afoot to upgrade the country's gas infrastructure in order to meet the urgent power needs for speedy industrialisation of the country.
"We have abundant gas, but we need to evacuate it to the power stations, through a robust development of our gas infrastructure" he said. "Bankable packages are being developed to attract international funding."
He welcomed Daewoo's proposal to fund infrastructural development in Nigeria at agreeable terms and assured the company of government support.
President and Chief Executive Officer of Daewoo, Mr. Jong-Uk Seo said the company had been operating in Nigeria since 1978 and was prepared to fund infrastructural development at agreeable terms to give back to the community and to show confidence in Nigeria's future.
President Jonathan also granted audience to a delegation of Hyundai Heavy Industries, led by Mr. I. S. Chun, Senior Executive Vice President/Chief Operating Officer; and a delegation of JD International, led by Mr. David Lee, President/Chief Executive Officer.