AFTERMATH OF PDP CONVENTION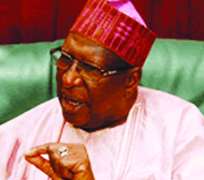 Bamanga Tukur, Chairman, PDP
The new National Chairman of the Peoples Democratic Party (PDP), Alhaji Bamanga Tukur, has dismissed insinuations that he will be the Presidency's stooge. He says his mission is to make the party's platform accessible to all members. He spoke on other issues, including the view that he is too old for the job. He spoke to Eric Osagie in his first interview after his victory at the convention in Abuja last Saturday.
Excerpts:
How do you feel the  morning after your election as the National Chairman of PDP?
I feel good, I feel energized, I feel that now that I have the mandate to translate our dream for equity in our party. I am one of those who formed the party. I am going to ask all those who left the party to come back so that we can now rebuild the party together.
How do you think you can succeed in bringing everybody back to PDP?
We have done it before with them, they have their reasons for leaving the party. It is dialogue, it is all about agreeing together, reaching consensus. We will do it again.
Were you embarrassed when your zone picked somebody else, three days before the convention ?
No, I was not, I was not embarrassed because I know one thing  that even our own prophet-it happened to Jesus, it happened to Mohammed- we don't appreciate him at home, that was how I took it.
Many believe that you are going to be somebody's candidate, that you are an establishment man, that you are Jonathan's man for 2015.Did you hear such submissions?
Is it about what you hear or what  you have seen I have done, I don't bother myself with all those things. I am not anybody's candidate, I am for members of the PDP, I believe in them . I will work with them  to build the party. The governors, the state chairmen, the National Working Committee, stakeholders and indeed all the members of our party elected me and I have a duty to work for them. People can say anything they like but in the course of time they will  see what we will do during our tenure. My mission is to make the party what it is supposed to be.
But what is your reaction to claims that you are Jonathan's stooge?
I have told you I'm nobody's stooge. I was even the one that presented Jonathan's hand. I believe what he is doing now is okay
That means you presented him well
I raised his hand even before he became the presidential candidate. Did I do that because he was a president ? The answer is no. So, please, you people can say anything, but what I know is that I am for anything that will grow Nigeria.
Some people believe that you are too old, that you will not be able to move round as expected of a national chairman of a party like PDP
( Cut in )I don't know why anybody would say that, is idea about strength . Am I  going for boxing or wrestling? What we need is idea, what we need is experience, what we need is ingenuity , what we need is someone with a vision. I think these are areas we should concern ourselves with not whether I am over 70 years or not. I am here to restore the party to the vision of the founding fathers which is to be a vehicle for social justice, to provide voice to all Nigerians.
What is your relationship with the former Vice President Atiku?
What about Atiku? He is a member of our party, what relationship do I have to have with him other than a fellow member of our party.
It was alleged that he didn't quite support your candidature?
Well, I don't know about that. Because he did not support my candidature does that mean anything, am I not the chairman. I don't want any controversy, please.
What is your vision for the party?
You will see that when I roll out my programme.