Afghan Killing Spree Suspected To Occur In Two Stages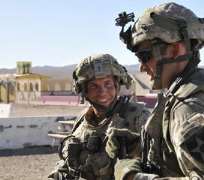 The U.S. Army sergeant accused of killing 17 Afghan civilians is believed to have carried out the rampage in two stages, returning to base after the first shootings and then going out to kill again, a U.S. official said on Saturday.
The official, speaking on condition of anonymity, did not offer further details about the investigation into the March 11 shooting spree in southern Afghanistan, which has further eroded U.S.-Afghan relations already frayed by a decade of war.
But the disclosure points to an extended timeline for the alleged killing rampage by Staff Sergeant Robert Bales, a decorated 38-year-old veteran of four combat tours in Iraq and Afghanistan.
Bales, who is being held at Leavenworth military prison in Kansas, was charged with 17 counts of murder on Friday for killing eight adults and nine children. He was also charged with six counts each of assault and attempted murder for attacking two other adults and four children.
Bales is charged with going off-base under cover of darkness and opening fire on civilians in their homes in at least two different villages in Panjwai district in Kandahar province. It was not immediately clear which village Bales is suspected of attacking first but his ability to repeatedly leave the base on a rogue killing spree raises questions about base security.
Defense officials have said four men, four women and nine children were killed. A man, a woman and four children were wounded or shot at.
The killings seriously strained relations between Kabul and Washington, with Afghan President Hamid Karzai demanding that NATO forces leave Afghan villages and withdraw to major bases.
Karzai also demanded foreign combat troops, most of whom are due to leave the country by the end of 2014, stop carrying out controversial night raids of Afghan homes, seen by NATO commanders as one of the most effective anti-insurgent tactics.
Taliban insurgents vowed to take revenge on NATO forces for the killings, saying they had no faith in any court proceeding.
Premeditated murder is a capital offense under the U.S. military justice code, so Bales could face the death penalty if convicted. He would face a mandatory minimum sentence, if convicted, of life imprisonment with eligibility for parole.
REUTERS