INTERNET, MOBILE EXPLOSION DRIVING DIGITAL MARKETING - MACILWAINE, TNS BOSS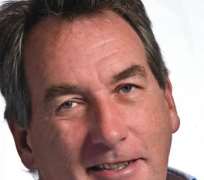 The Chief Executive Officer, Africa and Middle East, TNS, Mr. Kim Macilwaine, says that Internet and mobile explosion are key developments driving digital marketing growth in Nigeria. He spoke with DAYO OKETOLA
Almost one year after TNS merged with RMS, how significant can you say is the Nigerian market for your business?
One year after the TNS/RSM  merger, the experience has been very positive on both sides, I must say. In any merger, I think the integration is the difficult part while negotiation is easier.  Statistics show that about 70 per cent of mergers fail because the people do not get the integration process right. So looking at the TNS/RMS merger, it's been a busy year, a year of adaptation for both companies, but we have emerged from that year very well with a good growth momentum. The people of TNS/RMS are in a big frame of mind to explore the growth opportunities of this market.  Nigeria has become a very important part of our region, and also with the merger with RMS last year, it's important to stay close to the business as it becomes part of the TNS family. Nigeria is a big growth engine for the TNS RMS partnership.
Do you see the investment as a necessary one?
It's a right investment because of the obvious reasons why we made the investment. One of the reasons is that the West African market is growing really fast. Research shows that it is probably the fastest growing market in the whole of Africa. Second, RMS was the top company in West Africa. So, the top growing market and the top company are the two obvious reasons for the merger. So, we are pleased with the people, we are really pleased with the growth of the market and look forward to the future. In the last one year, we have already done about 15,000 research projects; but this is going to grow very rapidly due to our investment in technology. We are driving this whole technology across the whole regions, which we have started in Kenya, down to Nigeria and it is big in South Africa. It is the way to go to improve efficiency
A key component of the merger is the migration of RMS operations from manual to computer- assisted system. How would this impact on the company's operational performance and the entire market research industry in Nigeria?
TNS is the world leader in custom research, and to maintain that position, obviously, we have got to maintain cutting edge system and leadership in the way we do business and research. One of the things we are bringing into the TNS/RMS business specifically is the transition to computerised research, whether it is telephone interviews or computer-assisted interviews. We probably do well over hundred market research projects a year, and what it has enabled us to achieve is to do the research faster, more efficiently, more cost effectively, and hopefully, pass the benefits to our clients. Obviously what it does, compared with the face-to- face interviews, is that it reduces human errors and we probably get an active figure of 99.5 per cent of the data captured. Another important factor is the quality of the data that we turn out. We are doing this in many countries in our region. Take for example, Kenya; 70 per cent of our interviews are already being done on computer-assisted platforms, and we hope to get that to 100 per cent by early 2013. It will obviously take us more time to get there in Nigeria. But with the benefits of our investment in technology, I know it's going to work.
Inadequate industry statistics has been the bane of decision making in Nigeria. How will digital research help improve the situation?
We are a big player in the Nigerian marketing research landscape, and my understanding is that there is an industry association here. The association must work together with the Nigerian Bureau of Statistics. As one of the dominant players in the industry, I think we have to play a leading role in this regard.  We think it is important for us to lead the industry to take great steps to improve the quality of data we get in the market. But we cannot do this alone; it has to be with everybody in the NBS. And there is a global market research body which I will love to see Nigerian research companies belong to. The global body puts in place standards like ethics and best practices, which generally help the industry grow and improve data quality. We have an ethical responsibility in the industry to improve the quality of data, but it does not happen overnight.
As a marketing research expert, will it be right for us to conclude that government decisions sometimes fail because of inadequate statistics to guide them?
It will be wrong for me to comment on the Nigerian government, and I don't want to get drawn into that.  However, from our industry and also from my experience of working in the past, the quality of decision making - be it in government, business or in the non-governmental organisations - can be improved by the availability of realible and factual data. I mean if you really have good data based on fact, it can help improve your decision making. I was a convert of market research. Even before I joined the market research business, and I knew that good quality data would lead to more informed decision making.
By how many percentage do you think the Nigerian market research industry can grow in 2012?
We are forecasting that the market research industry this year will grow by seven per cent. We believe that in the next two or three years, it will be between six and 10 per cent per annum. However, with the investment in technology, which leads to faster turnaround time, more access to data, improved client satisfaction, the industry growth can increase further.
TNS predicted, early 2011 in its Digital Life Study, that Nigeria would experience explosive Internet growth. By the end of the year, Internet users in the country had climbed to about 43 million. What does this mean for businesses in terms of online marketing?
I think we have seen an explosion in the quest from our clients. First, for the knowledge about what consumers do online. Every year, we carry out the Digital Life Study, which covers 46 markets, including Nigeria, to find out what people do on the Internet.  We also do the Mobile Life Study, which covers 43 countries, including Nigeria, with a specific focus on how people use their mobile phones. I know five big clients of ours in Nigeria who have asked us to do specific research into digital marketing. These companies want to know specifically what consumers are doing on their mobile phones. There is a huge explosion for digital marketing research and what that leads to is that companies are spending more and more of their marketing budget on digital marketing. There is a very large client of ours that I spoke with about six months ago that is   planning to spend 25 per cent of its marketing budget for 2012 on digital marketing. This is a big percentage as against what obtains worldwide.I think globally, the figure is around 17 per cent. Also, Procter and Gamble has just announced in the United States that it was going to switch a significant percentage of its marketing budget to digital and online in 2012. The leading market clients in Nigeria are doing exactly the same.
Invariably, are you saying digital marketing is growing in Nigeria among FMCG companies?
Companies, such as Fast Moving Consumer Goods, including breweries, bottling companies and the telcos, are currently leveraging digital platform for marketing their products and services. They also see the opportunities for using digital marketing more and more.
Do you think this could boost online fraud in the country as well?
This comes back to the issue of ethics in the marketing research industry. As we drive research online, we strive to be absolutely sure that people's properties are protected. This is one of the principles of the research team. We make sure that the information given to us are protected and kept safe. If this is not done, people will not respond, or they won't want to come to you when you talk about research. I must say that this is not easy. It's a very difficult and topical issue globally. So, I don't think online fraud or cyber fraud is not peciuliar to Nigeria. However, it is important to know that private information and property of people are very important and must be protected.
How can the government leverage the social media, digital platform and the country's huge Internet population for effective policy communication?
We work with the Lagos State Government, which I think is one of the more enlightened states. I think the way  the state is using research to understand its constituents and the feelings of his people  is very progressive. I also think the state is leading the pack in that regard. I know the government is using marketing research and quality data for informed decision making. You can also find out from the governor how he has used it to leverage e-governance. So, it will be very good to find out if the data is effective. By and large, digital technology plays an important role in modern government.