MATTHEW AZU, NIGERIA, AND EDO EXPERIENCE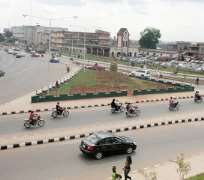 The demise of a close associate or parent as the saying goes evokes sudden realization that we are mere mortals. The passing of Odogwu Matthew Azu, The Counselor, as he was fondly called, was beyond a reminder of the biblical aphorism that ''the earth is of the Lord and the fullness thereof''. This perhaps explains partly why we shall someday pay with our heads for the spit, vomit, urinate and even defecation on the case less earth where we are originally primed from.
In times of maturity, enjoyment and excitement when power and vigor are at their greatest loftiness, we tend to forget that we are at the mercy of the eternal timer who calls the shorts on man's length of days on earth. But the late Azu's case was different. He was a good student of ''the ladder of life'' through and through. He led life to the fullest: living out every given day as though it was the last day of his life.
If he eats or drinks, you can bet your life with it that it is the very best the world could offer at that material time. How about attire? He disciplines everyone's clothing in all gesture. Little wonder that his passing corresponded with the Lovers' Day, February 14th, a day that is famously celebrated by lovers of life and humanity. He lived like the great king of Phrygia who Dionysus gave the power to turn everything he touched into gold. He touched the lives of many, mine inclusive, with his Midas and I have learned the admirable virtue as the ultimate purpose of human existence – living in perfection and seeking the perfection of others and their happiness. This is the interior of life many wished to live.
The impression I had of Azu since our first encounter in the U S, Houston Texas and Lagos Nigeria in the year 2000 never wavers up till our last encounter on January 15th in Houston until he breathed his last on February 14th, 2012. If anything, it was a complete rebound of those inherent qualities that brooch that moment of unfussy, but gracious business bond. As an international business tycoon of repute and the CEO of Mat Azu Nigeria Limited, he was always in the bind to see through the success of any serious minded associate who exerts his acumen on the productive growth of his chosen enterprise. This is a feat master rarely achieved: he rarely tells the servant the secret to becoming his own master. Instead, he points the subordinate to the narrow alley that will keep him an obedient tool.

This is the void that would be created eternally by Azu's exit amongst his friends who looked up to him as pathfinder and lover of entrepreneurial gait. But the copious consolation is that Azu did not die after all. If he did, there wouldn't have been concerted effort and devoted synergy by his admirer to fill the void. His apostles – those he affected or those who affected him have all vowed collectively or individually to continue to bear the cross of his philanthropic mission. Albert Einstein captured it perfectly in one of his classical contentions that, ''our death is not an end if we can live on in our children and the younger generation. For they are us, our bodies are only wilted leaves on the trees of life.''
Azu The Counselor would be greatly missed by those who went through his counseling portal, even though he was not a psychotherapist. His aim was to increase individual sense of well-being, through construction and re-construction of cognitions, emotions and behaviors that is acceptable in global business community. Those who ran to him in want to sooth their upsetting industry for the relief of their traumatizing experience were never disappointed. Azu in his characteristic style could douse any convulsing tension as much as disarm a roaring lion with his fictive smiles.
As his remains were lowered into the mouth of Umunede red earth, the land of his forebear in Delta State – straight from the arcade where the rites took place and right out of the air-conditioned Marbled Hall he built and donated to the sleepy community in his flora-graced premises, the earth literally shook under my foot for several minutes that suggests a patent reunion with the abode of mortals and celestial ascension to afterlife!
But there is a sharp contrast – except few instances – that a boisterous and lively man as Azu could easily found peace in Nigeria without foreboding. The current security misfortune, born of marriage of convenience and imbalances are the blight of the Nigeria statehood. This singular travail is threatening to take the nation into the deep sink and the leadership pathetically sits atop a keg of gun powder without taken decisive steps to curb the excesses of Boko Haram. In advanced clime, you don't treat terrorists' insurgence group with kid cloves.
They are better dealt with through intelligence gathering and community policing, and not through ancient combative method or archaic military industrial complex that emphasizes bearing of long gun by its men like a country under siege. And it doesn't seem the country is making any head way in any direction with incidences of financial graft and religious chauvinism that continues to threaten her cohabitation. Everywhere you visit, especially the old Midwest, comprising Edo/Delta – I can't vouch for any other part of the country I didn't visit – there are still ciphers of the old structures of those gracious edifices built by dedicated politicians of yester years who where in the service of their father land for endogenous growth.
The country is neck deep in parade of misery called governance and locked in one crisis after another as if married to it with no foreseeable chance for divorcement. The imposing destitution is obviously compounded by pliant citizenry that hardly challenge or scrutinize its leadership. It tinged my consciousness that Nigerians in a democracy are being tossed like jetsam into the night sea to make the tossing ship more comfortable and stable for the luxury passengers who are the ship wreckers themselves.
If this is the democracy the most populous black nation has for her citizens and racial brethren on the African continent, one dares contemplate the recourse to Arab Spring sour course. If Nigeria leadership can be this coldly indifferent to providing motor able roads, hospitals, schools, pipe borne water and other social amenities to the people of Nigeria which is the stand point and symbolic yardstick for measuring development, it would not have the slightest care weather her citizen dies at home or abroad.
In any case democracy has worked an evil turn on the continent of Africa, except a few ones like South Africa in the golden years of Nelson Mandela. Democracy is an embodiment of freedom and liberty wherever it may be found. It is everyone's right to seek to be properly governed. The Great Madiba himself acknowledged this in his book, ''Long Work to Freedom'' that, ''for to be free is not merely to cast off one's chains, but to live in a way that respects and enhances the freedom and development of others.'' He emphasized that economic prosperity without liberty is another of form poverty in disguise. In Nigeria, there is neither economic prosperity nor liberty.
The odds for significant democratic renewal are equal to those against it. The embers we noticed with the military incursion in politics are now at full burn. It has come to the open that federal government spends N8.4 billion on seating allowance of 71 board chairmen and members for seating four times a year in four years in a country that cannot boast of smooth inter-city road in any part of the country.
The traumatic experience I had on Benin/Ore/Lagos road was an express encounter with a living hell! I had set about Lagos from Benin around 10 am thinking that we could traverse the 300 kilometers stretch of road in three hours as it were in the 80's, since I didn't want to be at the mercy of air transport providers that routinely cancel scheduled flights without recompense or remorse to the travelers. More than anything else, I also wanted to experience firsthand, the much taunted infrastructural revamp of the central government in that much fantasized giant of Africa. The driver of the privately run transport company called ''God is Good Motors,'' runs intermittently into the forest in search of old and abandoned roads to make up for the impassable supposedly highway that have remained distended for decades.
As the driver slew unto the ditch, falling log and tufted loosestrife to the chuckles of the passengers, no one, to my greatest surprise altered any discontenting rebuke on Nigeria government on how we suddenly come to the sorry pass. I had lost count of hours until the vanishing of the enveloped darkness in the forest into the illumination that turned out to be the prescient of Lagos. Time was 10pm. This is the tragedy of a misgoverned nation.
However, signs are abounds that Nigeria might yet arise from the ashes of her ruinous episode after the uncanny encounter with blood-sucking military regimes that tempted to wipe out the historical achievement of the founding father of the much buffeted nation. The Edo State example is a case study.
The spectacular transformation I saw in Edo State without complimentary development in Delta State – even as it swims in oil wealth – is not enough to diminish the agony Nigerians suffer in the hands of their oppressors in power. In the whole of Delta State no single government presence in terms of road rehabilitation or school reconstruction. Edo state was different. Right from the airport, I observed that the roads leading to it is being reconstructed. The same goes for all the roads at the city-centre.
My amazement: virtually all the Primary and Secondary Schools along the road wear fantastic outlook never seen in that part of the world that I had to reassure myself with a pinch that I was not in Houston Texas, a place where education comes first, second and last. On a closer look from the exterior of Ekeken Primary School, Ewohimi through a solid skylight glass window, I examine the interior that fits into the core premise of my kids' school in Houston: marbled floor, single desk-to-chair, white board for learning, PVC ceiling with ceiling fans, and air-conditional office for the teachers in an enclosed fence. The only thing left was greenery outlay which would have suited it perfectly for American standard. I also do not know how much encouragement the teachers get in terms of the take home wage.
The excitement of what I saw in the day lured me into savoring the spoil of the ancient city of Bini at night. I turned to a tavern called ''Time Out'' along airport road, not too far away from my hotel location. I was thrilled to a life band musical concert. The talented whiz kid on stage was light and graceful; leaping in all direction with light tripping steps that brought forth the vanishing memories of the past.
It reminds one of the glorious days in Ojuelegba, ''Kalakuta Show'' by the mythical musical maestro, Fela Anikulakpo Kuti. The agreeable moment of musical harmony with the past comes with some measure of reassurance of some sorts that we have not lost it all. Out there at ''Time Out,'' all the willowy of the night and the gigolos were heavily ornamented in their best apparel, squeezing up every part of their flesh for attention. You could see the pale reflection of shredded powdered wigs and hairpieces, filtering through weak lighting in half-illuminated scene. I was very clear the make-believe enhancements and elevations are more for sight than to be felt.
What is happening in Edo and some other progressive states should necessarily embolden Nigerians that they must continue to integrate into the democratic edifice because that is where the bullion of economic progress and liberty resides. It's a surfeit vehicle for allocation of value in an economy in such a way that labor and productive economic assets are put to efficient and prudent use.
Written By Vincent Isokpehi

Disclaimer:

"The views/contents expressed in this article are the sole responsibility of

thewillnigeria.com

and do not necessarily reflect those of The Nigerian Voice. The Nigerian Voice will not be responsible or liable for any inaccurate or incorrect statements contained in this article."
Articles by thewillnigeria.com