ROMNEY WINS ILLINOIS GOP PRIMARY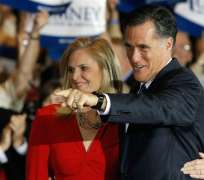 The primary had offered Republicans maybe their best chance yet of a genuine one-on-one battle between the former Massachusetts governor and Santorum, his chief competitor for the nod.
"Elections are about choices. And today, hundreds of thousands of people in Illinois have joined millions of people across the country to join our cause," Romney told a throng of supporters in the Chicago suburb of Schaumburg.
As a result of the Illinois vote, Romney's delegate tally rose, though though the state-wide popular vote had no technical bearing on the eventual allocation of delegates.
In Illinois, voters elect delegates separately on candidates' behalf.