'Watch Your 'Koobi' Intake'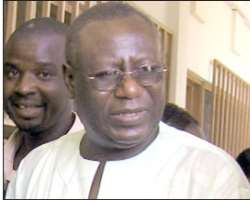 THE RECENT high number of reported cases of cardiovascular diseases has been attributed largely to unhealthy lifestyles among Ghanaians.
Reports indicate that cardiovascular diseases, which mostly affect the heart, brain and kidney, would by 2010 become the leading cause of death among people in developing countries including Ghana.
Dr. Francis Kwamin, a Consultant Physician at the Department of Medicine at the Korle-Bu Teaching Hospital told HEALTH MATTERS on Friday that cardiovascular diseases, formerly known to affect only adults, were now gaining root among young people; a development he said if left unchecked, could pose serious socio-economic problems to the country's development.
'Cardiovascular Disease (CVD) affects people in their mid-life years thus undermining the socio-economic development not only of affected individuals and families but nations as well.'
He attributed the sudden rise in cases of CVD to poor eating habits, physical inactivity, tobacco and alcohol consumption and lack of adequate rest among people.
He, for instance, mentioned that the constant consumption of foods that are high in fats, salt and sugar should be discouraged at all cost.
Consumers of such food products, he warned, are potential candidates of cardiovascular diseases like Cancers, Stroke, Diabetes and Chronic Respiratory Diseases.
He said Koobi for example contains high amount of salt which is not necessarily good for the body's system.
A greater percentage of Ghanaians, he said, take delight in using salted fish, popularly known as koobi or momoni in their cooking to add taste to their meals but are ignorant of its side effects on the consumer.
'People are consuming a more energy-dense, nutrition-poor diet and are becoming less physically active.
'Imbalanced nutrition, reduced physical activity and increased tobacco consumption are the key lifestyles factors that can create serious health problems to people; approximately two million deaths that occur every year are attributable to physical inactivity; also, preliminary findings from a World Health Organisation (WHO) study on risk factors suggests that sedentary lifestyle is one of the 10 leading causes of death and disability in the world,' he pointed out.
Earlier at a ceremony to formally launch the Second Annual School Health Quiz at the Ministry of Health (MOH), Dr. Kwamin who is also the president of the Ghana Society of Hypertension and Cardiology, said a total of 48 second cycle schools in the Greater Accra and Eastern Regions have been selected to partake in this year's quiz programme which took off last Saturday, September 27.
The programme, being organised by the Ghana Society of Hypertension and Cardiology in collaboration with MOH and the Ghana Education Service with sponsorship from Sanofi Aventis, a drug manufacturing company, has been adopted as part of activities under the Health Ministry's Regenerative Health and Nutrition Policy aimed at educating people to adopt healthy lifestyles.
Madam Salimatu Abdul Salam, acting Chief Director of MOH, commended Dr. Kwamin and his group for the initiative, saying, 'The uniqueness of this School Health Quiz is the novel approach it has adopted towards achieving the goals of the Regenerative Health Policy by targeting the youth.
'I believe the long-term success of this educational tool will create a significant positive impact on disease prevention in this country.'
She advocated the inclusion of similar health programmes in the schools' curriculum.
Representatives from Sanofi Aventis pledged the company's continued support for the programme.
Participating schools from Accra include the Chemu and Nungua Senior High Schools.
Two students from these schools have so far been selected to be sponsored to Maputo, Mozambique for a similar quiz competition.
They are being sponsored by the management of Sanofi Aventis.
By Grace Dartey