Nigeria Journalist Threatened; Was Mentioned As Possible Intermediary With Radical Sect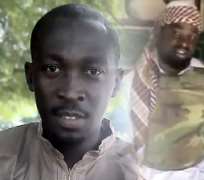 A journalist in Nigeria said Tuesday he's been threatened and followed in recent days after he was mentioned as a possible intermediary in potential peace talks with a radical Islamist sect.
Freelance journalist Ahmad Salkida said he fears he will be targeted over his previous articles and contacts with Boko Haram, a sect waging an increasingly bloody conflict with Nigeria's weak central government. His fears come as another man mentioned as a possible go-between for indirect talks has said he's pulled out over details of the negotiations being published by local newspapers.
Salkida has covered the Boko Haram movement since 2006, including the sect's violent rioting and a later security crackdown in 2009 that saw 700 people killed. Security forces detained Salkida for six days after the rioting, later releasing him without charges.
In recent days, he said he's noticed being followed while he drives. He also said he received threatening telephone calls, including one in which a man told him that "me and Boko Haram are not supposed to exist."
Salkida said he believes the threats come from Nigeria's security agencies, which have suffered numerous casualties in recent Boko Haram attacks and remain angry about the killings. The sect is blamed for killing more than 360 people this year alone, according to an Associated Press count. Those killed include Christian and Muslims, as well as police officers and soldiers.
The Committee to Protect Journalists, a New York-based advocacy group, has said it is concerned about Salkida's safety.
"Nigerian authorities must take these threats seriously and we hold the government responsible for Salkida's well-being," Mohamed Keita, the committee's Africa Advocacy Coordinator, said in a statement Monday.
Nigeria came out of a long period of military rule in 1999 and has an unbridled free press, but journalists are often harassed by police and the State Security Service, the nation's secret police. Local journalists also have been attacked and killed in the oil-rich nation over their reporting in the past. This year alone, two journalists in Nigeria were killed.
In Salkida's case, however, the threats he faces likely are a result of the government's push to find intermediaries to possibly start indirect talks with Boko Haram. Nigeria has reached out before, but to individuals who exaggerated their influence with a group whose command-and-control structure remains a mystery. The sect has splintered. Analysts and diplomats say its violent, extremist wing has ties to two other al-Qaida-linked groups in Africa and appears to be led by Sheik Abubakar Shekau, who has issued Internet video messages promising more attacks.
Salkida's name has been mentioned in local newspaper reports as a possible go-between. When asked if he had passed messages between the government and the sect, Salkida declined to comment.
"I am a patriotic Nigerian. I am a peace-loving Nigerian," he told the AP on Tuesday. "If there's anything I can do to contribute to end this cycle of violence, I would do it."
Meanwhile, Ahmed Datti, a Kano physician who heads a prominent Muslim group, the Supreme Council for Shariah in Nigeria, issued a statement this weekend saying he had pulled out from indirect talks after local newspapers published details.
"This ... has created strong doubts in our minds about the sincerity of the government's side in our discussion, as the discussion is supposed to be very confidential to achieve any success," Datti said in the statement.
Boko Haram, which speaks only through sporadically held teleconferences with local journalists, has not commented about the possible negotiations. However, in its last communication March 9, a sect spokesman using the nom de guerre Abul Qaqa said negotiations would "never be possible" so long as its members remain imprisoned.
Associated Press