PDP Chairmanship: Akwa Ibom Adopts Tukur As Consensus Candidate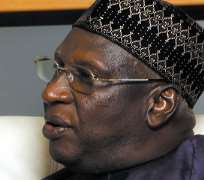 AKWA IBOM, March 19, (THEWILL) - Alhaji Bamanga Tukur is a step closer to realising his ambition of ascending the national chairmanship of the Peoples Democratic Party (PDP), following his adoption by Akwa Ibom State delegates as their preferred candidate.
The delegates, who had converged on the Government House Banquet Hall to receive Tukur and his campaign team, said they were giving their support based on their conviction of his wealth of experience and integrity.
Senator Ita Enang, member representing Uyo Senatorial District moved the motion for Tukur's support, and it was seconded by Atuekong Don Etiebet, a member of the party's Board of Trustees. Speaker of the Akwa Ibom State House of Assembly, Hon. Sam Ikon moderated the motion, calling for a voice vote to ratify the motion.
Governor Godswill Akpabio, leader of PDP in the state, reaffirmed the commitment of the group to the emergence of Alhaji Tukur as the next national Chairman of the party.
"As a people with political integrity, Akwa Ibom will not only speak with one voice but will return hundred per cent votes to Alhaji Bamanga Tukur during the election slated for March 24, 2012," he announced. "The Peoples Democratic Party needs a man like Alhaji Tukur who has garnered the experience needed to resolve the intractable problems in the party."
But he advised Tukur to be cautious, when he finally emerges as chairman, of "Abuja politicians" who cannot win elections in their wards but would rather go about writing petitions to the party just to cause infractions.
Welcoming the national chairmanship candidate, state chairman-elect of the party, Mr. Paul Ekpo urged the national body to take a cue from Akwa Ibom State, which he noted had demonstrated to Nigerians its respect for peace and justice by holding a state congress that was devoid of rancour.
Earlier, Tukur, a former Minister of Industries had appealed for the votes of the delegates to the national convention, promising to run a vibrant party with his vast experience in politics and business. "The position of the chairman of PDP requires someone with the right ideas and foresight to mobilise the people and transform the party to a leading party on the continent."
The erstwhile governor of the defunct Gongola State and president of African Business Round Table saluted Governor Akpabio for what he described as "motivational development at work" given the numerous ongoing infrastructural projects in the state.
Former Deputy Senate President, Senator Ibrahim Mantu, who heads Tukur's campaign team, further reiterated the determination to return the PDP to its lost glory. "Nigerians in general and the PDP in particular do not need a man who needs the job of the chairman of the great PDP but a man who is instead needed by the demands of the job of chairman. Given his pedigree and experience, Alhaji Tukur is such a man," he said.