Mrs Gifty Affenyi Dadzie - The Little Girl With Many Questions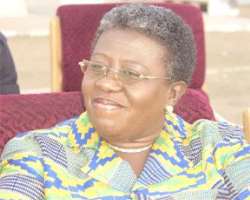 Right from childhood, she has been very vocal, always making sure that she is heard in the classroom and everywhere she found herself. In school, she was bright and inquisitive and threw questions at her teachers and adults on anything she did not understand.
No wonder, Gifty has grown to become an outspoken woman who makes her opinions known on all issues in society.
As the former President of the Ghana Journalists Association, she was very articulate and outspoken when it came to issues of the media, a habit which saw to the rapid growth of the media during her seven-year term in office.
Speaking to the Junior Graphic, Mrs Gifty Affenyi Dadzie disclosed that her birth to Mr J.K. Affenyi and Mrs Charity Affenyi was surrounded by mystery. Her mother was seven months pregnant before she (her mum) detected that she was carrying Gifty. Earlier, her mother had been diagnosed as suffering from fibroid.
"That was why I was named Gifty, which meant a gift from God," she said.
Little Gifty grew up in a Christian home. Her father was then a health inspector who eventually became superintendent at the Takoradi Port, while her mother was a "trader with business acumen".
She said her mum was somehow able to determine what generated a lot of income at any point in time so she (Gifty) hawked 'sweet bad', provisions, fried plantain, empty bottles, among others, while she was growing up.
Although she engaged in hawking regularly, Young Gifty still had time for her books. She loved reading so much that sometimes she smuggled story books to read when she went hawking.
When she had almost finished selling her wares, she found a quiet place where she sat to read her books. But one day, she was not lucky as her mother caught her reading when she still had some of the wares to sell. "I was punished severely, but my mum explained that I had to do the first things first. She said that it was important to sell all the wares I had before doing anything else".
Her mother made her account for every item she sold, and in case anything got missing, she was held responsible for the loss.
"Somehow, that discipline has helped me to be alert and conscientious," she noted.
Mrs Affenyi-Dadzie revealed that even though her mother sometimes had about three house-helps, they shared responsibilities equally at home. She was not pampered as a little girl and went through the normal process of growth as every Ghanaian child.
She washed utensils, ironed clothes, swept a portion of the house and learnt how to cook as well. She said her mother always cautioned her to learn how to cook because "if you don't learn how to cook, your marriage will not be successful". And, truly, it has helped her a lot, since she used to wake up as early as 3:00 a.m. to start her daily house chores.  "Up till now, I wake up around 3:00 a.m. to organise things well at home," she added.
Delving into her educational background, Auntie Gifty as she is affectionately called, said she attended Tarkwa Methodist Primary School and continued at the Mmofraturo Girls' Boarding School in Kumasi.
From there, she went to Winneba Secondary School, where she obtained her GCE Ordinary Level certificate and proceeded to the Ghana Institute of Journalism, where she obtained a Diploma in Journalism.
She also has a Masters degree in Governance and Leadership from the Ghana Institute of Management and Public Administration (GIMPA). She is also a fellow of the Chartered Institute of Administrators.
She said, in school even though sometimes she succumbed to peer pressure, it did not have a toll on her because she was closer to her parents than her friends.
"My mother was my best friend. I discussed everything with her so I got good advice all the time," she added.
She loved playing hockey when she was at Winneba. She said her favourite book is the Bible and the food she enjoys most is rice, sauted in oil and cuts of salted beef.
She was born on June 17, 1957 and has raised two daughters, Grace and Esi Dadzie. As a young girl, she was a member of the junior choir of the Methodist church.
She is always touched by the plight of needy children and, therefore, she has sponsored many of them in various ways —some at the JHS, SHS and at the university.
Currently, she is the youngest member of the Council of State and Managing Director of the First African Group of Companies which has 13 subsidiaries nation-wide.
Mrs Affenyi Dadzie, who believes her strength comes from God, is also the National Prayer Director of the Women's Aglow Ministry, a non-denominational group which meets weekly for worship and holds intercessory prayer sessions once every month for Ghana at the Independence Square.
Story by Adeline Koramoah