Apagun Olumide Was Strangled To Death, Reveals Autopsy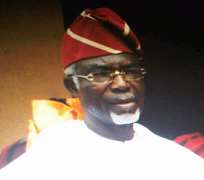 ABEOKUTA, March 19, (THEWILL) – Late Egba chieftain, politician and architect, Apagun Wole Olumide did not commit suicide as is being circulated in media spaces but was rather strangled to death at the artificial lake beside the Golf resort Hotels, according to the result of an autopsy carried out by the family, THEWILL can authoritatively confirm.
Apagun Olumide died on Friday in a manner that has been speculated as suicide, after excusing himself from his driver only to be found lifeless in the lake hours later. His remains, recovered by local divers, was intercepted by the Police on Saturday morning and later deposited at the morgue of the Neuropshychiatric Hospital Aro, Abeokuta.
However, divulging to THEWILL the details of the autopsy released on Sunday, a family source said the late right-hand man of former governor of Ogun State, Gbenga Daniel, was strangulated to death.
"Information at my disposal reveal that the Egba High Chief, Chief Apagun Oluwole Olumide, whose mysterious death has kept tongues wagging, was actually strangled to death," wrote the source, who discussed with THEWILL solely on the note of anonymity.
"According to the autopsy report just released this evening, and which is being kept secret by family members ahead of his planned burial on Monday, the late Apagunpote of Egbaland was strangled in the neck."
Until his death, Wole Olumide, an architect, was the Apagunpote of Egbaland — a chieftaincy titled he held with glamour and was respected for. He was also the chairman of the hotly controversial Golf Resort Hotels, alleged to have been employed by the former governor to siphon state funds. And as a right-hand man of Daniel, he has been fingered in allegations of looting of Ogun State's funds in past years and he has allegedly been implicated in the ex-governors hunt by the Economic and Financial Crimes Commission (EFCC).