We're Pretty And Brainy Too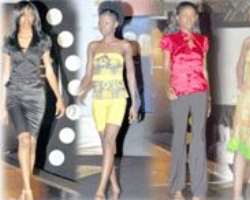 Modelling attracts some brilliant young men and women among the youth of Accra. What is happening at the Exotic Modelling Agency confirmed this when Showbiz spoke with five models from the agency last Monday.
As the models put it, "Contrary to the perception that modelling is for dropouts and people who like the easy way of life, the industry is now attracting some of the finest brains among the youth because it has been realised that the grooming offered models make them more refined and prepares them to meet the challenges of life at all stages."
Indeed out of the five models that this reporter spoke to, four of them, all ladies, are pursuing courses in universities and other tertiary institutions located in Accra.
The ladies are Jamilatu Bawa, 20 years, a first year Bachelor of Administration at the Institute of Professional Studies; Chantel Dapaah, 22, first year student in Business Administration at the Knutsford University College in Accra; Sandra Odamten, 20, has just gained admission to pursue a degree in nursing at the Central University College in Accra and Angela Danbaki Suraj, 20, is also studying Economics and Enterpreneurship at the Boaba Business Enterpreneurships in Accra.
Jamilatu was introduced to modelling by her close friend, Angela, about five months ago when Exotic Modelling Agency was scouting for talents to model for them.
Since the initial rehearsal, she has not looked back.
"I do really enjoy being a model, it has shot me up in popularity. I am no longer the young woman who walked the streets of Accra without being noticed.
 I enjoy the new friends I make every day.
"I do not think about the money I make out of it for the moment. It is rewarding in many other ways.
My confidence level now is very high and I can engage anybody in a conversation without inhibitions and those are a few of the many benefits that have accrued to me."
Chantel who has been modelling for only three months is beside herself with her success.
" I am a better lady now, my walking has improved, I chat better and generally know how to relate better with other people.
I have become a role model to most of my friends and they are always looking up to me to start new moves.
"My Daddy who is in United States has called several times to congratulate me because he tells me his friends in Ghana call to inform him of how wonderful I look when I appear on telly.
"I am in Ghana but making impact in US. How else could I have achieved this? Internally the benefits are numerous, I can only thank the day I decided to become a model."
Sandra and Angela think that even without wishing to become models most young women could just take the training."
Sandra extols the value of the grooming generally but Angela talks more about the confidence that results from the grooming.
The only male model I met, Laud Ameyaw Gidiglo, who runs a boutique in Accra, said he was into modelling not so much because of money but the thrills he gets from participating in shows.
 "Walking the runway with people cheering is an uncommon experience and is very fulfilling for the model."
Laud said he been modelling for less than a year but is ever grateful to Richard, his deceased Italian friend who advised him to enter that field.
"What you earn in modelling in this country cannot sustain any young person who wants to be successful in life but it opens a lot of doors for the model to exploit for his or her future success".
What about the sex and drug tales that are told about models? "That is all imaginary", the models said almost in unison.
"We have also read about some in foreign magazines". They conceded, however that, as happens in every group of people, there may be those models who indulge in such things but such behaviour is hardly the stock of the trade.
By E A Andam