IGNORE PRESSURES IF YOU WANT TO SUCCEED, AGALI TELLS KESHI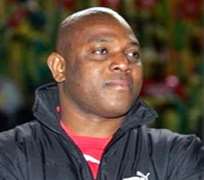 Former Super Eagles' striker, Victor Agali, has said that the success of Stephen Keshi as the national team's gaffer, would depend solely on his ability to ignore unwanted pressures that could come from all quarters.
The former Olympic Marseille of France player said that Nigerians are passionate about football, especially as it concerns the Super Eagles and so, advised Keshi to be wary of being vulnerable to comments and actions that could distract him from pursuing his goals.
Agali stated that Keshi's position as Eagles' head coach comes with thorns of anguish and frustrations because of high expectations from all and sundry. He, therefore, said that Keshi must turn off the pressure and focus on well informed decisions for him to succeed in his assignment.
'It is going to be pretty difficult for Keshi to coach Super Eagles because everybody expects him to turn around the team overnight,' Agali said.
'Keshi has played the game to the highest level and he was with us when we qualified for the 2002 World Cup. So, I believe that he is very much in control of his actions as the coach.
'That not withstanding, I would advise him to ignore the pressures that would come his way from all quarters and concentrate on his work.'
Agali further said that Yakubu Ayiegbeni still deserves a place in the Eagles' line considering the current statistics on ground and what the player is doing in the recent time.
According to the Jiangsu Sainty of China player, Yakubu remains the most successful striker the country has among the Eagles who are currently playing actively. He, however, cautioned against the repeat of what happened in 2002, when Sunday Oliseh and Finidi George were dubbed tired legs and were replaced with Mutiu Adepoju, who ended up warming the bench at the World Cup in Japan/Korea.
'If we want to follow statistics, Yakubu Ayiegbeni still has a future in the Super Eagles. Currently, he is the most successful striker in Eagles. We should not allow sentiment to becloud our sense of judgement and so throw away statistics.' Agali cautioned.
'Yakubu has scored the highest number of goals among Nigerian who are playing active football at the moment. As a coach, Keshi should not ignore such a player,' he stressed.