MY BATTLE TO RID INSURANCE BUSINESS OF QUACKS - ADETIMEHIN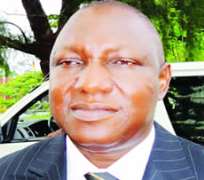 Dr. Julius Adetimehin is the man piloting the affairs of the Chartered Insurance Institute of Nigeria (CIIN). The insurance guru of about four decades, and one of the pioneer students of the discipline at the University of Lagos, was elected President of the institute last year. He is championing reforms aimed at checking the activities of quacks and redeeming the image of the profession as a vocation of swindlers.
In this interview with Daily Sun, the president speaks on his vision…and mission for the institute. He also offered a peek into his life's journey, and climb onto the summit of the insurance business.
Excerpts:
Who is Dr. Julius Adetimehin?
I was born in Ile-Oluji in Ondo State to the late Pa Josiah Adetimehin and the late Mrs. Juliana Adetomi Adetimehin, both of blessed memory. I had part of my elementary education at Ile-Oluji, from where I left for Abeokuta, where I completed my elementary schooling. I then proceeded to Isabel Grammar School in Abeokuta. I finished my secondary school there in 1970. I then had a stint of about two, three years, during which I did my 'A' level examinations and then on full time basis I was working for the Ministry of Agriculture in the Old Western State…and that time afforded me the opportunity to write my GCE 'A' levels.
I won't say it was due to my brilliance but I grew up being a very serious boy and I got the 'A' levels at a sitting and got admitted into the University of Lagos in 1975. I was one of the pioneering set of the insurance programme. At that time not many people appreciated what the insurance degree programme was all about, but we pioneered it and, today, we're giving God all the glory. It has taken his special grace in our lives. We were less than 20 at that time, 16 precisely. Without being arrogant or boastful, we had to work through the industry to gain our recognition and I can tell you, today, it has become history. Quite a number of us got to the peak of our careers. In fact, in our set, maybe I would be the second privileged person to attain the status of president.
The first is Mr. Oluwatoyin Elewuramo, who was president about 10 years ago. And at that time I was the Treasurer on the council.
What made you choose Insurance, despite the little awareness available about the profession?
Yes, like I said, if you take time to look at the history of people that have been successful in life and even now, they are the class that have chosen to do something that would distinguish them from what majority of the people were doing. It was like going to the forest to create a path. And, today, if we can count up to 10 or 20 Nigerian universities, apart from the polytechnics offering Insurance programmes, you would know the extent to which the profession had grown in our environment. I was to do Accountancy, and this advert came out from the University of Lagos and it just worked in line with my kind of ambition to say, 'this is a green area that can be exploited' and for any pace setter in any field, so long as he can weather the storms, he would surely excel and come into prominence.
What has been your experience?
Initially, even right on the university campus, because it was strange, they suddenly saw a set of people coming to read insurance. At that time, most people likened insurance to gambling. How can you ask me to bring N5,000 to insure my house or property, and if anything goes wrong, you're going to pay me hundreds of thousands. They couldn't really fathom the scientific basis of how insurance works. These were the initial difficulties. So, we ended up right on campus becoming advocators and counselors of people there and by the time we were in our final year, we'd won quite a number of converts from Engineering, Economics and other people changing their courses to come and read insurance. And, over the years, even to date, you could still see that in this part of the world, this level of acceptance is still very low. So, if you marry that with our age-long experience, you could begin to imagine the efforts we have put into it to come into prominence.
A lot of people are of the view that Insurance business in this country is one huge fraud. They talk about defaults and very hazy clauses and conditions of taking policies. What is your take on that?
People have a right to their opinions but, most times, they can be very subjective and people draw conclusions without the right facts. So, most of these people must have been talking out of ignorance. And, you know, there is no end to education; it's a continuous process. And this is one of our pre-occupations - to educate people. You see, as a matter of policy, we've not chosen to go all out to call people that have benefitted from buying into insurance, a thousand and one in this environment. We do not want to engage in cheap advertisement. But, frankly speaking, quite a number of our populace hardly would venture into knowing the A-Z of Insurance. How does it operate and what are the principles? All they would have to say is 'I bought my car; it was stolen and what they did not request at the inception, they are now asking me.' And, in most cases, people have fallen into wrong hands. You go to register your vehicle at the vehicle registration offices; you are getting a piece of paper. These are worthless insurance papers.
This informs why, in recent times, our regulator, the National Insurance Commission started raiding all these fake operators of insurance out there. And quite a number of them have been arrested and are being prosecuted now. So, given that scenario in the past, quite a lot of things have changed. There is a development stage in any field; in any discipline, and insurance can never be any different. In those days, most people you even find in the profession would probably not have the required qualification. Like I told you, I belong to the first set of insurance graduates in this country and we graduated in 1978.
So, what had been the position before then, compared to this present day?
At this present stage, the people you find in insurance, even as agents, are educated; well trained persons, having a minimum of National Diploma or HND, or a degree. Some now have their agencies and are making a lot of money because they go out to sell insurance products and advise people. Before they can get to that stage, they must have the right guidance in place. Such class of people must have passed through our institute because, by our charter, we have the sole responsibility to determine the standard required as insurance practitioners, to train required personnel, who want to take to the profession. That is our primary occupation. So, this set of agents, the NICON regulator would have expected them to pass through us for proficiency and training, and that curriculum is so embracing that at the end of the day, they are well groomed, and are given a proficiency certificate by our institute. With that proficiency certificate, they can now proceed to NICON, the regulator.
We will license them, and this licensing is subject to renewal. You don't do it once and for all; we want to ensure that people selling insurance in whatever capacity or category are trained, so that the buying public will not fall into the wrong hands. So, its high time people began to agree that it's a new order. Insurance has gotten a new face.
What we are now appealing to is the psyche of our people to do away with the past because the insurance companies that you have around now are very well equipped, their capital base is sound, those at the helms of affairs as management are chartered persons, skilled and experienced and most of them are seated on Public Liability Companies, Plcs. So, it's a new order.
How do you alleviate the fears of people, as it affects the fact that buying policies are easy and rosy at the beginning, but defaults set in when the time comes for the insurance companies to pay claims? Do you have a mechanism in place?
Of course, we have Ombudsman in place, the Nigerian Insurance Association has put together an Ombudsman, headed by Justice Oguntade, where people with complaints can file their reports and it is dealt with, with dispatch. And we have the National Insurance Commission to whom you can report. We have even our institute. Anything that would tarnish the image of our institute and the industry, we pick it up and react in a positive manner. We have Nigeria Insurance Association, the body of all insurance companies. All they do is to foster progress and development of their business.
But that has not eliminated quackery. What are you doing about quackery?
I just told you that NICON has all the powers to clamp down on them. They exist in all other professions. Again, it behoves on the buyers. They should go all out to get value for their money. Are you talking to the right agent; are you talking to the right brokers? Brokers are specialists, skilled intermediaries. Everybody you see in a broker's firm is a qualified, well experienced fellow that can tell you the A-Z of any insurance product, it's pricing and what you'll have to go through when there is a claim. So, all these avenues are there, given that when you go to the counter, because of the pressure and volume, you may not have all the time to engage the official on the desk, but these are all other avenues.
You gave a vivid analogy of what traditional insurance is all about, can you apply that to addressing the mindset of cynics and skeptics about this industry?
In those days when you talk of you being your brother's keeper, what people could achieve out of that kind of culture is limited. I may not necessarily have addressed the quantum or the extent of loss or damage suffered but, even in principle, we must recognize that it's a relief. All the prerequisites; the benefits of such cultural compensation or protection amidst ourselves, have been overtaken by modern insurance. If you put the right policy in place, you're taking the right advice as to how best to insure your house, the contents and other valuables, you've gotten the right packaged policy, such that in the event of a claim, you'll be adequately compensated, given that you have done all that is required of you under the contract - paying your premiums, you having an inventory of all you have in your house, at least at the time you want to insure, a number of items would have crossed your mind considered as valuables that should be protected by way of insurance. So, at the event of a claim, they would ask you: 'You told us you have lost all these, can you give us receipts to show that you actually had them, because at that time, they didn't come to inspect your house. But nowadays, they even go to that extent, which we call risk inspection and survey.
What if the receipts got burnt along with the house?
Once you gave a list of those things with their appropriate values, and you are paying your premiums, there is always a way. As a matter of fact, in very recent times, over the years, insurers have had to cut a good image for themselves and having to go out of their way to even compensate people when there are no rationale, because under the guise of the philosophy of building public image…. You can imagine, when you buy a car with N4 million and you come for insurance cover and you are told 'this is the policy terms - put anti-theft device' and you claim to have a garage. You had it parked in your garage. If a claim occurs and they request you to submit the pedal lock, keys and things like that and then you claim not to have and couldn't submit it and it becomes an argument. These are some of the little areas of conflict. But, even then, it would not be enough in itself to say you won't get compensation, probably for not complying with all the conditions of the contract, there could be marginal penalty. And again, like I said, because of the advocacy for good public image building, you'll get your claims.
As president, what are your agenda?
I did say, and I'll like to reiterate here, that my focus is to reposition this profession and industry. And it will come under the umbrella of promoting the relevance of insurance and its practitioners before governments and all the other sectors of the economy. I believe in constructive things, not in being confrontational and daily criticizing government. We are not part of the government. We should come together, help government and participate in governance to do the best for this country. So, on my level I said I would put together a body that would make inputs into the national budget and I would do an analysis of it immediately the budget is released, we'll call for a seminar and we'll bring people from the Presidency, Ministry of Finance, Commerce and Industry and all stakeholders. We'll analyse, trash it out and tap into all the benefits. Government too will note all these reactions for future development. That is one way. At least, more than ever before, government can be seen as having listening ears and, as a professional body, we too can be seen as making a meaningful impact and contributions. This is just one of the things I have on my programme.
In what way has the vagaries of the economy and political challenges affect business and professionalism in this industry?
I keep saying Insurance sector in this economy couldn't have been an exception to what all other sectors are going through. And this can be adduced to fundamentals. Do we have the right fundamentals in place in Nigeria? If they are there, the growth in the industry would have been more rapid. Our contributions to the growth of the economy and, in particular, to the GDP, would have been meaningful. But the growth you expect to find in insurance is a function of the totality of growth in the economy.
sometime ago, there were indices showing that inflation was less than 10 per cent, there were indices that our growth rate in this economy was ahead of that of South Africa, Brazil and some other places. With my little knowledge of economics and the acquisition of business operations, I have my reservations for these statistics. Are they not misleading? Because in real and concrete terms can we see evidence of growth? So I think it's high time we began to face reality. We should be addressing the basic infrastructure. Let there be stable power supply, how can it be a recurring issue all these ages? It should be tackled headlong. Energy crisis. How can we say Nigeria as a nation, sixth largest producer of oil, will still be importing refined products?
For God sake, I think it's high time we closed our eyes, shut our doors and face realities of our time by building more refineries, say within the next 18 or 24 months we will not import fuel again or diesel. Look at people queuing for kerosene. It's uncalled for. This vagaries and distortions have equally affected the growth of the insurance sector. The real estate sector is groaning. The bankers too, with all the reforms in banking, interest rates are still very high; all these will not propel the growth of the economy.  People are poorly paid, the wages are ridiculous. And they can't save, they can't do anything. They can't even take insurance. After all, it's when you've met all budgetary expenses from your disposable income that you think of buying into insurance.
How do you hope to ensure the sustainable growth of the profession at this critical time that you have assumed the helms of leadership?
More of this awareness campaign, education of the general public. With all these disasters we have mapped out strategies with government, and advised them while sympathizing with them, that the general public too will have to know that they have to help themselves. They have to build wisely. If God could provide for you the means to build structures, the same God will give you the grace to know what is right to do to protect such valuable assets. By way of transferring the risk of fire, flood, to professional insurance firms that can carry and shoulder the risks. So, these are some of the things we do. And again, we are establishing a college of insurance that will specially be training prospective professionals. We believe we need to mobilize more people so that the vanguard for insurance awareness can grow and in the long run, insurance can become a household name.
Let's go back to your person sir. What was growing up like?
Well, let's give God the glory. The creator has a divine plan for everybody and everybody has got his destiny, his heart. I have a humble background. Both of my parents never went to any school. But in their lifestyles they could be taken as retired perm secs. Unless I tell people know one will know. There have been occasions when people will accost me and ask 'were you trained in England. Were you born in England. That presupposes my kind of background. I just told you I was born in Ile Oluji and I grew up  there before I had to leave with one of my late uncles, who was a professional teacher. On holidays, we would retire back to our community and work with our parents. My father was a prominent and successful cocoa farmer. So, we lived well and never allowed the wellbeing to get into our heads. We were serious.
So, you were not rascally?
Well, as a young man I was restless and up till my secondary school, I was smallish in stature. And even with my kind of background, I finished my secondary school at the age of 16 which compared with the son of any Prof. in this country at that time. And what parents impacted into us was this independent philosophy of life, whereby you learn to operate independently. You have to be serious, you have to be hardworking, and you have to be purposeful in life, and it has helped because when you operate an independent life, you need people. You must relate with people. You must build relationships but what we are saying is that culture whereby on your own you can evolve plans, you can work hard, you can draw strategic plans, you can define a goal and work yourself to actualize that goal. That was the kind of philosophy I had. I never failed to tell that to people. You have a project, you that is conceptualizing the idea, what have you got to actualize this dream before you start going cap in hand. And it has helped.
How much did your living with a teacher contribute to your self-discipline?
I was privileged to have that background and orientation because the teachers of those days were highly disciplined and if you are part of their family, you are bound to imbibe that culture. We wake up early, we say our prayers, we have time for lessons, and we know when to go to bed. We do everything with serious minds and we were accountable. In fact that time, those uncles were not married, so, we will go to market, make soup and it helped.  Unlike nowadays children, we imbibed too much of western culture and look at what is happening in the tertiary institutions. You must live independently. At that time, we could wash our clothes, we could iron, we could do some many things. It really helped because even when I came out of the university, I had to start work, it reflected because from day one, we knew that we were not trained as clerks. Without being arrogant, without portraying any ego, we were trained to be future executives and decision makers. That made all the difference. The way you carry yourself, the way you relate with people, you get to work, you can plan your day. You report to your boss and that was it.
How did you meet your wife and what was the attraction?
I must confess, it has remained one unique divine gift of God in my life. I have never failed most times I've been made chairman at wedding receptions to share it with people that we had an early courtship. I was planning to go to the university shortly after I finished school cert. I was working at the Ministry of Agric, old Western State, she too was about to finish her secondary education when we started that courtship. So, we grew up together. There was nothing artificial in our relationship. By the special grace of God, she was of an aristocrat parentage, but that never got to her head. Her father was a diplomat. Immediately after her secondary education, she had the privilege to travel abroad to continue her studies. She graduated from University of Wales, I graduated from University of Lagos, and we maintained that relationship, even when I had the opportunity to go and join her for postgraduate work. And, immediately she finished her programme, she returned here.
What did she read?
She read analytical biochemistry. When she got back we went into early marriage, very early marriage.
You have not told us her name.
She is Dr. (Mrs.) Adetokunbo Adetimehin. We met while in Ibadan because after my secondary education, I came with my uncle who was working in IITA, and I was to do some work with the old Western State Ministry of Agric. And she too was staying with an uncle within the same environment because her parents were abroad. She had some senior cousins that were my friends and that was the beginning of the union. I was guiding and guarding her jealously. I was very small, she too was very small and we didn't mess ourselves up. We didn't.
You sound religious and moralistic. Let's talk about your mindset. Are you a pastor?
(Chuckles) I am not one yet, but I serve and I work for the Lord. By birth, I belong to the First Baptist Church. My grandfather was a founding father during the advent of Baptist church in Ile Oluji. But now I worship with Christ Miracle Mission in Lagos, but I still have not left my conventional church, First Baptist Church. I'm one of the elders in council. In fact, I do attend service there. One Sunday, the council and the pastor will come and look for me. So, my going to Pentecostal is not out of prostitution or whatever. Wherever I can serve my God, I believe in it, because the Lord has done well for me. I've had encounters in life which made me to appreciate the awesome power of God.