Peaceful Delta Congress Produces Nwaoboshi, Ogba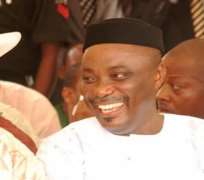 DELTA, March 18, (THEWILL) - The normally rancorous Delta State chapter of the Peoples Democratic Party (PDP) on Saturday defied its ugly history to stage a peaceful congress in the capital city of Asaba, as the usually opposing camps of Governor Emmanuel Uduaghan and Chief Edwin K. Clark fused into one, even if only for the moment.
Immediate past Chairman, Chief Peter Nwaoboshi, was returned unopposed as the state's PDP Chairman alongside 28 other members of the Executive Council, while Chief Solomon Ogba emerged as Secretary.
The new Council also includes Chief Emmanuel Ighomene, deputy chairman; Mr. Daniel Macaulay, publicity secretary; and Mr. John Ishiaka, legal adviser.
The conduct of the exercise was spearheaded by a panel of officials from the party's national secretariat, led by Dr (Mrs.) Anne Ukpor, who commended Governor Emmanuel Uduaghan and other leaders of the party for ensuring that the congress was devoid of any form of rancour.
"This peace is good for the progress of the party," Ukpor announced. "For giving peace a chance, I believe that PDP in Delta State will be a shining example to other states in the South-South." But she expressed disappointment in the absence of women from the new executive council, save two who managed to clinch fringe positions.
Governor Uduaghan, a delegate from Warri North Local Government, was full of contentment with the outcome of the congress, smiling broadly and exchanging banters with party members while it lasted.
"There is no more faction in PDP. Nobody will say any longer, 'I belong to Dr. Uduaghan faction or Chief E.K. Clark faction'; we are all now one. There is now peace and unity in the party," he declared.
The bulk of the credit, he noted, should go to Chief James Otobo, who worked tirelessly to resolve the conflicts and differences existing in the party.
The returning chairman, Nwaoboshi, in his acceptance speech, thanked everyone who had embraced reconciliation, as it was crucial to the holding of the landmark congress. "I commend PDP leaders in Delta State, especially the governor, for this peaceful atmosphere we enjoy today," he said. "I want to thank Deltans for giving peace a chance; I am happy that PDP in the state can now speak with one voice."