SUICIDE ATTEMPT: IS ATIKU'S MEDIA AIDE A PSYCHIATRIST?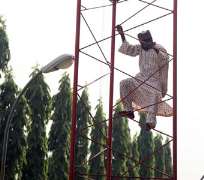 A Media Aide hears about a man's claim and pronounces him "mental." He may have become a psychiatrist without the knowledge of his boss, Atiku Abubakar. That's a former Vice-President of Nigeria. It happened that a man climbed a mast, claimed that Garba Shehu's boss owed him a debt, and threatened not to come down until he was paid. Shehu's reaction to the issue might not have mattered except that many in the public space believed what he said of a man he probably never met before. "They say the man is mad," was how an adult summarized the encounter after he watched the news on TV, after he heard Shehu's comment.
The former Vice-President's Media Aide was quoted to have said: "We honestly suspect that this man is mental, if there is one Nigerian who pays all his bills that one is Atiku Abubakar. If the idea of this pole climber is to get N2million from the Turaki, this certainly is not the best way to go about it. Were it left to me, I will say that the man should simply be ignored. He will climb down when he gets tired of staying up there." No expert has proved the mental state of the man concerned, yet another man, because he has a presence in the public space, because he commands public attention made a claim of mental illness and the public believed him. That is symptomatic of the problem that confronts the voiceless in this country. And the voiceless are everywhere.
Did any Nigerian follow the Senate probe on management of pension fund in the country? And did any Nigerian ask the question: How come revelations of mismanagement, misappropriation did not become a matter of wider public knowledge until the senators chose to conduct a public hearing, until they provided a platform on which the complaints of these voiceless segment of the nation is being heard? People seethese retired government servants on the streets and categorize them whichever way seem right. Yet, these people who live like destitute, sometimes appearing mad, really have a case with the big men in government who play around with the funds that is earmarked for them. Of Shehu's comment, a Nigerian noted on the internet: "Mental indeed.. I guess every oppressed person must be mental."
The observation of this Nigerian followed a careful study of the case concerning the man that climbed a mast in the premises of the Federal High Court in Abuja, as the media reported it. Before Musa Inuwa, an indigene of Adamawa State like the former Vice-President, stepped on the mast behind the courthouse in Abuja and went up the height of a fifteen story building, he had done the following: He walked to the high court premises and asked for the direction to the Litigation Department. Asked why, he said he wanted to file a complaint over non-payment for the work he did for the Vice-President. He said he had been to the Police and the State Security Service (SSS), both of which did not pay him attention. Although he had a copy of his petition, he was told to go to Adamawa State High Court to make his claim. He then demanded to see the Chief Judge of the Federal High Court. When this request was turned down because, as he was told, he needed to have a lawyer with him, the man went for the mast, insisting he would not come down unless his debtor signed an undertaking to pay him. And where he was, so high up, he continued to shout: "I will not come down until the Federal Government and Nigerians come into this matter." He had also copied his petition letter to the Inspector General of Police, the National Human Rights Commission, Public Complaint Commission, Brigadier Commander Nigerian Army, Yola, Adamawa state governor, the Director of SSS Adamawa state, and the Adamawa state Emirate Council. That was the man Shehu dismissed off-hand as mental, and in a situation where his boss is reported to have said that he would look into the matter.
The issue here is that Shehu's dismissive reaction, as well as the agencies that Inuwa wrote to but which failed to conduct investigations into his claim, is symptomatic of the general pattern in this clime. In a big-man versus small-man case, the former comes tops. The initial reaction of those whose business it is to hear and take action, wherever a small-man turns to make a claim against a big-man, is laughter. Now whether or not Inuwa is "mental" as Shehu claims is not the first issue. The first is that every Nigerian deserves to be heard, his claims investigated, and proper counsel given as to the best way to go about it. Obviously, Inuwa has been ignored wherever he turned, the same way many Nigerians are ignored at whichever government agency they show up to seek for succour over unjust treatment. For instance, pensioners whose case is now being heard do not drop one day from the sky. They have been on the streets for years, and they have written letters, visited concerned government agencies and ministries, yet no one heard their voice until the Senate chose to hold a public hearing.
It is said that a big-man was on one of the airplanes that South Africa turned back to Nigeria the other time. Nigerians are still eager to know the big-man, because they know the matter would not have generated so much outcry if only ordinary Nigerians were on board at the time. These are the kind of images people have of how their officials treat them and which make Nigerians lose their sense of decency, of self worth. And many Nigerians have been decencitized, their sense of human worth brought to its lowest level. Truth is, when a people are brought this low, it is one step away from behaving indecently at every turn, a step away from leaving legal means for seeking redress, to resorting to illegal ones. Examples are all over the place. The nation needs to put a stop to what has become a norm in the manner government officials, and the big-men that they seem to be in place to serve treat Nigerians, if some fundamental issues that are responsible for the nation's problems must be nipped.
Now everyone knows it takes a trained psychiatrist to diagnose, treat and provide care for mental disorders in a patient. And a psychiatrist doesn't often make public what he knows about his patient's mental state, unless a court compels him. Moreover, diagnoses from the interview with the patient, information gathered on family history, as well as information from significant others helps a psychiatrist make objective deductions about his patient's mental status. Even as a trained expert, he is warned not to armchair-diagnose, but to leave plus or minus in his conclusions, because it could well be considered defamation which is big money when lawsuit is involved. So the expert is counseled to say of a patient something like, "His behavior demonstrates…" rather than saying, "I think he is deranged." Shehu would be fortunate if at the end of the day the man he called "mental" does not truly have a case against his boss, and even if he does not, Inuwa may yet drag Shehu to court for defamation and win. And that remains a noose hanging around the neck of the Media Aide, until he proved his armchair conclusion right.

Written By Tunji Ajibade
[email protected]

Disclaimer:

"The views/contents expressed in this article are the sole responsibility of

thewillnigeria.com

and do not necessarily reflect those of The Nigerian Voice. The Nigerian Voice will not be responsible or liable for any inaccurate or incorrect statements contained in this article."
Articles by thewillnigeria.com