Gbenga Daniel's Aide, Apagun Olumide, Dead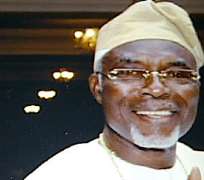 ABEOKUTA, March 17, (THEWILL) - The sleepy town of Abeokuta, the Ogun State capital, was late Friday night hit by another in its notorious series of high-profile political deaths, when the body of Apagun Wole Olumide, a political and business ally of immediate past governor, Gbenga Daniel, was recovered lifeless from a river beside the disputed Golf Resort Hotels.
It is yet unclear if Apagun Olumide, whose remains reached the Police around 10:00am on Saturday, committed suicide or he was murdered.
Apagun was reportedly being driven to the Resort when he suddenly asked his driver to pull up beside a bush path, which he disembarked from the car to follow. When his driver got no trace of him after about an hour, he raised an alarm that led to a search of the vicinity. His cap was seen beside a nearby river, prompting a team of local divers to jump into it. His motionless body was subsequently recovered.
Wale Adedayo, a friend of the deceased wrote, "We are eagerly waiting for the Nigeria Police Force, Ogun State Command, to clear the air on what actually happened before this Jolly Good Fellow of a Man ended his race on this side of the divide."
He described the late politician as an inner caucus member of former Gbenga Daniel's business circles, saying "They were the fixers when it comes to funds, contracts and the like. In addition, he was a veritable force in sucking the oxygen of Egba elites' support out of both Aremo Olusegun Osoba's Action Congress (AC) and Senator Ibikunle Amosun's All Nigeria Peoples Party (ANPP)."
Until his death, Wole Olumide, an architect, was the Apagunpote of Egbaland — a chieftaincy titled he held with glamour and was respected for. He was also the chairman of the hotly controversial Golf Resort Hotels, alleged to have been employed by the former governor to siphon state funds. And as a right-hand man of Daniel, he has been fingered in allegations of looting of Ogun State's funds in past years and he has allegedly been implicated in the ex-governors hunt by the Economic and Financial Crimes Commission (EFCC).