WHERE IS COSSY ORJIAKOR?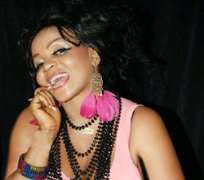 By AYO ONIKOYI
There is no arguing that wives dread to see the bust-wielding socialite,CossyOrjiakor, around their husbands. Yet, many husbands would get beside themselves just to have a peek of those bronchial wonders. She is a hot item to cherish any day.
The actress who seems to have found better calling in music than acting has not been in circulation for some time now.
Cossy
Where she has gone to, remains a mystery to her teeming fans.  In recent times, she has not been responding to mails and her cell phones have gone dead.  Each time her number is dialed the irritating tone of ' not available' greets back.
Cossy, who has not really been ruffling any feather in the  movie industry is surely holding her ground in the music industry. Her latest single 'My Body' in which she featured Ego is doing well in the market and many of her critics have actually commended her for job well done.
The last time she was seen at a social gathering was when she graced the premiere of 'Victims of the Society', an advocacy movie (which she starred in)  held at the Muson Centre, Lagos, last December.  Since then, Cossy seems to have gone underground.
Our investigation revealed that the highly endowed actress who is also referred to as the Queen of Boobs, has replaced the  GSM line, which she has been known with a new line. Perhaps this is  to ensure that she stays away from the preying eye of the public.