House Orders Release Of Funds To Local Governments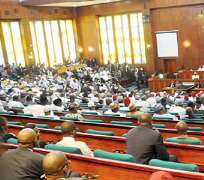 ABUJA, March 15, (THEWILL) - Reprieve has come the way of the 15 local governments whose monthly allocations have been withheld since the declaration of a state of emergency in their constituencies, after the Federal House of Representatives on Thursday directed the immediate release of their monies.
Fifteen local governments — Jos North, Jos South, Barkin-Ladi and Riyom (Plateau State); Maiduguri Metropolitan, Ngala, Bama, Biu and Jere (Borno State); Damaturu, Geidam, Potiskum, Gujba and Bade (Yobe State); and Suleja LGA (Niger State) — were condemned to a state of emergency by President Goodluck Jonathan on 31st December, 2011.
But the House unanimously mandated the government to "immediately release the monthly allocation to the 15 affected councils, pursuant to the provisions of section 162 (5) of the 1999 constitution," following the adoption of a motion brought by Hon. Bitrus Kaze (PDP, Plateau).
Moving the motion, Kaze argued that the instrument of emergency declaration did not in any way implicate the withholding of the statutory funds of the affected councils.
In approving the motion, Speaker Aminu Waziri Tambuwal who presided over the session, said that the House was only asking government to do the right thing.
It will be recalled that the Senate had last Wednesday passed a similar resolution, which now makes it compulsory for government to release funds to local governments or states where a state of emergency has been declared.