Imoke Says Late M.T. Mbu Will Get State Burial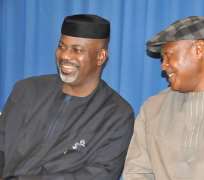 CALABAR, March 14, (THEWILL) - Cross River State Government has said it will to give late Dr. Mathew T. Mbu a state burial in recognition of his contributions to the development of the country.
Speaking to newsmen of the steps taken by the state in that regard, Governor Liyel Imoke of Cross River State who was flanked by the children of the deceased, Senator Mathew Mbu (Jnr) and Mr. Thomas Mbu, explained that the state has no choice but to offer "the legend of our time a state burial" in recognition of his services to his father land".
Imoke described late Mbu as great icon and one of the greatest leaders that the country has produced, adding "the deceased had made enormous contributions to the development of the nation as a nationalist, and had worked for the country on various capacities and was a man of great intellect."
The Governor disclosed that though the bereaved family had notified the Federal Government of the obsequies, the state would not fail in its responsibilities nor relegate its functions "because as a great son of Cross River, it will take full responsibility of the burial of this great statesman".
He remarked that the late diplomat was a good scriptwriter whose correspondence was hand written and very powerful.
A representative of the bereaved family and son of the deceased, Senator Mathew Mbu (Jnr.) while unfolding the obsequies, disclosed that the remains of his father will arrive Lagos from London on Tuesday March 27 and will depart Lagos to Calabar the following day.
According to Mbu (Jnr), his father will be buried on Friday, March 30 inside his country home at Okondi, Boki Local Government Area after a funeral service adding that there will be a thanksgiving service on Sunday, April 1.