BREAKING: Tchidi, Sophia Chikere Marriage Crumbles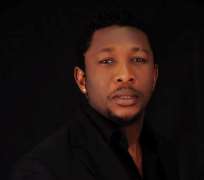 News getting to Nollywoodgists.com from an industry insider confirms that the marriage of Nollywood actor cum producer and director, Tchidi Chikere has crumbled.
According to the source, Tchidi and his wife, Sophia are calling it quit with their 9-year old marriage due to inreconciling differences.
The marriage, which has produced three male children, was said to have endured some initial break ups and some unending difference between Tchidi and Sophia.
In a statement sent to us by the industry source, the marriage is said to be ending due to failure of making the marriage work by the two parties.
Below is the statement sent to us by the industry source un-edited.
After nine years of union that produced three wonderful boys, respected movie producer, Tchidi Chikere and wife, Sophia will be going their separate ways.
The couple who have been trying to make things work for nine years will be calling it quits.
They reached this painful decision after several break-ups and efforts to make the marriage work failed.
The relationship was taking its toll on the children and affecting personal happiness of the couple.
The three children are with Sophia for
now and Tchidi will be solely responsible
for their upkeep and continue to play the
role of a responsible father.
For the sake of the children and others involved, Tchidi Chikere will not be granting interviews or running down Sophia on the pages of newspapers.
He enjoins members of the fourth estate and public to respect his privacy and help protect the children from emotional torments.
Tchidi wants an amicable process and protecting the wellbeing of their three lovely boys remains top priority to him,
especially during this trying times.
He thanks friends, fans and families for their prayers and support at this time and wishes that their (Tchidi, his children and ex-wife) privacy is respected especially for the sake of the three lovely boys.
He wishes to remain friends with Sophia as much as possible within the circumstance.
Efforts to get through to Tchidi to confirm this story proved abortive as his phone number remained unreachable. We learnt that he has not been in town since last year.