PDP Ready To Screen Aspirants - Baraje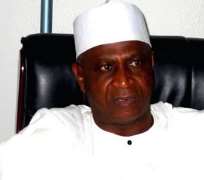 ABUJA, March 13, (THEWILL) - The National Working Committee (NWC) of the Peoples Democratic Party (PDP) has concluded arrangements to screen aspirants for various party offices ahead of the forthcoming national convention slated for March 24.
Acting National Chairman, Alhaji Abubakar Kawu Baraje disclosed this Tuesday evening in Abuja, promising that it would be conducted in line with the principle of due process laid down by the constitution of the party.
Baraje revealed that while the screening will hold about a week to the national convention, a list of the screened aspirants will be released by the Screening Committee three days to the convention. He also urged aspirants to get acquainted with the rules governing the conduct of the exercise.
"This is a due-process NWC. By now, our party members know who I am as far as compliance with rules and regulations is concerned," he said. "They also know that this NWC will not accept anything less than the rules and regulations guiding the conduct of our elections into party offices. We have been displaying the rules at the venues of the various congresses conducted so far across the nation. This is why we have had very little complaints so far."
He further emphasized that eligible aspirants must be card-carrying financial members, who must have record of proven integrity, who possess reasonable and proven experience, and who do not currently hold positions within or outside the party that will clash with the party offices they are currently aspiring to.
"Strict emphasis will be placed on the position of the party guiding the acceptable behaviour of aspirants or candidates for elective positions, and the true identities and the antecedents of the aspirants will be ascertained by the Screening Committee including their antecedents," he added.
On the recently concluded ward and local government congresses, he advised all aggrieved party members to forward their complaints to Appeal Panel Committees set up for the purpose, saying: "We accept only petitions that follow due process. Those not received by the Appeal Panel Committees will not be given attention in Abuja. This is what we mean by due process."