The Emerging Clothing Designer's Guide -- Samata Angel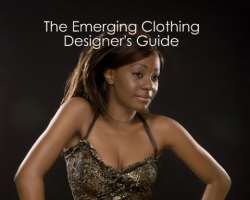 British born Ghanaian Samata Angel has just completed the guide book she has spent 7 months writing called 'The Emerging Clothing Designer's Guide To Making It Happen'. The fashion designer's book will be published this year and sell online and in bookstores. Samata wrote the book to focus on offering advice to emerging fashion designers in the fields of marketing, promoting, manufacturing, setting up, money management and other important areas.
The book will feature quotes and advice from some big names including Terry Mansfield CBE, former President and CEO of The National Magazine Company (Natmags) and Chairman of Graduate Fashion Week, Simon Whitehouse - Global Sales Director, DKNY, Nigel Barker (America's Next Top Model), celebrity stylist Nick Ede (Project Catwalk), Courtney Blackman (Fashion Business Club founder), Fashion Africa.com founder Wadami, ACID and many more.