GEJ Condemns Latest Attack On Jos Catholic Church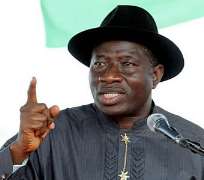 …Says Nigeria IS winning The War Against Terror
ABUJA, March 11, (THEWILL) – A statement from the Presidency Sunday following the deadly bomb attack at St Finbarr's Catholic Church Jos on Sunday said President Goodluck Ebele Jonathan condemns all acts of terror against the Nigeria and citizens.
The statement from Presidential Spokesman Rueben Abati said, "President Jonathan conveys his sincerest and heartfelt commiserations to the families of the victims of the bomb attack earlier today on the St. Finbarr's Catholic, Jos as well as the entire congregation of the Church and the government and people of Plateau State.
President Jonathan reiterates his Administration's total condemnation of this and all other terrorist attacks on innocent Nigerians and reassures all Nigerians and friends of the country that the Federal Government is doing everything possible to end the spate of mindless attacks and killings in parts of the country.
The President urges Nigerians not to despair or be discouraged by the persistence of the attacks in spite of government's efforts to deal decisively with the menace of terrorism within the country's borders because despite seeming appearances to the contrary, government is indeed winning the war against the terrorists and will continue to progressively destroy their ability to unleash murderous attacks on peaceful, law-abiding Nigerians.
In this regard, it is worthy of note that in recent weeks national security agencies have identified and arrested more of these agents of darkness than at any other time. Their hideouts and modus operandi are also being consistently exposed.
President Jonathan assures all Nigerians that Government will continue to build on these recent successes by our security agencies until terrorism is totally defeated in the country with the support, cooperation and solidarity of all patriotic citizens.
The President therefore calls on the populace to remain patient and refrain from taking matters into their own hands through actions such as reprisal attacks, as Government continues to take the battle to the merchants of terror and close in on their locations, funding and sponsors."