Boko Haram Spokesman Denies Link To Nigeria Kidnap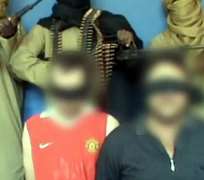 A purported spokesman for Nigerian Islamist group Boko Haram on Friday denied any part in the kidnapping of a Briton and an Italian who were killed by their captors in northwest Nigeria during a rescue operation.
Briton Chris McManus and Italian Franco Lamolinara were kidnapped last May while working for a construction company in northwest Nigeria, and were killed during an attempt to free them by allied Nigerian-British forces on Thursday.
A man saying he was Abu Qaqa, the spokesman for Islamist militant group Boko Haram, blamed for almost daily bombings and shootings across northern Nigeria, telephoned reporters in the northeast city of Maiduguri to deny it.
"We had no hand in the kidnappings and killings of the hostages," he said.
Nigerian security forces said they had captured Abu Qaqa last month, but since then a man claiming to him has phoned up journalists several times to claim attacks or issue threats, and local journalists confirm that the voice is the same.
Nigerian forces have arrested five suspects in the abductions, which they said had been carried out by a Boko Haram faction with links to al Qaeda in the Islamic Magreb, based in neighbouring Niger and Chad.
REUTERS