Introducing Dzifa Bampoe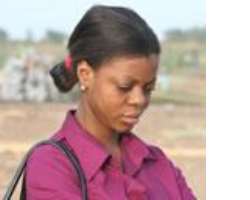 Dzifa Bampoe of Joy FM fame (a Ghanaian Social News Radio Station, www.myjoyonline.com) is a promising young lady with abundant skills and endowed with the art of conducting interviews. She has demonstrated this rare talent on the programmes she presents on radio, especially as news anchor and hostess of Newsnight (a one-hour news analysis programme) and of Home Affairs (a family life education programme on social life, relationships and marriage). She has worked tirelessly as an anchor and has succeeded in making the Joy Newsnight a must-listen news programme.
When The Mirror (A Ghanaian Newspaper) had a chat with her on Thursday, to find out how she had managed to endear herself to many listeners of radio, she had this to say, "I am not a confrontational person. I try hard to ask relevant questions and expect relevant answers. At times, I try to be cynical too."
She explained that the Newsnight programme is very important because it touches on practically everything that happened in Ghana and she speaks to many of the people who matter and are related to the story. The programme, according to Dzifa, "is further enriched because after each presentation, the news team sits together and reviews it to see what we didn't do well or what we could have done better." According to her, the feedback she gets after some of her presentations is that she at times doesn't get tough with her interviewees when grilling them. She responds that this is not her nature. Throwing light on how come she entered radio, Dzifa recounts how in September 1996, after she had completed Achimota School and was doing her national service with the State Protocol Department, she saw an advert on Ghana Television inviting suitably qualified persons for positions as news presenters, dee jays, among others, with the Ghana Broadcasting Corporation (GBC).
She sought the opinion of her dad who suggested she could give it a trial. She applied and after six months of waiting, she got her appointment letter from GBC in March 1997, to work as a music presenter. Later that same year, she got admission to study English and History for a degree programme at the University of Ghana. According to her, she managed to keep her job while pursuing further studies even though she was not on salary during the three-year period that she was in school. After graduation in June 2000, the then Director of Radio, Mr Godwin Avenorgbo, regularised her position as a full-time member of staff. Later, in 2005, she went back to the University of Ghana to pursue a master's course in Communication at the School of Communications Studies. Following the completion of her master's programme, she returned to GBC and took over the Morning Show, known as the "Unique Breakfast Drive", from Charlie Sam. That programme involved conducting interviews on a wide range of topical issues - social, political, economic and cultural - combined with a musical presentation.
She was also the hostess of a youth programme, Next Level, a Ghanaian television youth programme, which aimed at engendering development of capacity and creation of awareness in regard to contemporary issues affecting the youth while at the same time entertaining them. She was with GBC till December 2005. Dzifa joined Joy FM when she left GBC. According to her, she wanted to grow in her profession and be more competitive and also face new challenges. She is very excited with her work at Joy because she claims "there is so much room to explore talent if you are ready to work hard." Dzifa says she would not mind moving ahead in life once her quality matches up to the task at hand. She says she loves Ghana, she loves the sunshine and has no plans to join the bandwagon and go abroad. Dzifa encourages young people to work hard and build their careers and take advantage of opportunities. She believes female journalists are not doing badly and reminds them that even though the field is male dominated, there is still a place for women.
She was born on July 3, 1977 in Ho, to Dr Humphrey Gbeho (of Basil Clinic at Adenta in Accra) and Mrs Ninnette Gbeho of blessed memory. She lived in Nigeria for 19 years with her parents, and attended her primary school there. She did two years of her secondary school education at the Federal Government Girls College in Port Harcourt in the Rivers State, before continuing to Achimota School in 1992. At 31, Dzifa has already proved that she is a force to reckon with. She was adjudged the best worker at GBC in 2002 and also featured in the 2002 Book of 15 Inspiring AKORAS (old Achimotans).
Dzifa, the first of two children, got married to Mr David Bampoe, a banker, six months ago. She is a staunch Catholic and worships at Christ the King Catholic Church. Her hobbies are swimming, reading and meeting family members. She enjoys eba with pepper and fried fish.
Source: The Mirror; Photo Source: www.myjoyonline.com