WHY IBORI'S LOOT MUST NOT GO BACK TO DELTA STATE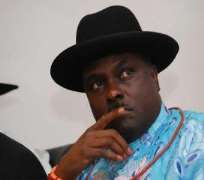 In a country like ours where corruption is a norm and culture, quickly embraced and never fought to either a standstill or logical conclusion, the repatriation of Ibori's loots by the Southwark Crown Court in the UK, remains a source of concern to this writer, most especially when such loots are soon to be returned to his home state of Delta.
It is saddening that a man who was convicted twice in the UK for grave offences could become the governor of a state, serving two terms of four years. It smacks of nothing but a political sickening of the system, which accepts all kinds of criminals and criminality, staunch illegality of the highest order, cantankerous elements and rogues to rule over the people. If a man like Ibori had evaded the unprecedentedly compromised Nigerian judicial system, took advantage of the deepening crisis in the political space of the country and served a blind people for eight years without this same people questioning his fraudulent past, it would not be hard to identify many other politicians currently serving or had served, who also are swimming in the same vantage position as Ibori was for eight years.
Not many where however surprised years back when a certificate scandal rocked the tenure of a former Speaker of the House of Representatives. Despite claiming to have schooled abroad, it was discovered he had never been a graduate of Toronto University afterall. If not for shrewd curiousity, people like that would have escaped being scrutinized by Nigeria's weak political and judicial system like Ibori had and served the people for perhaps eight years (and even more) with a certificate that hitherto never existed. Today, such man, rather than being punished for putting the nation into riddicule, walks a pardoned man by the State he once lied to.
As if that was not enough, many are still surprised at the judicial recklessness and mishandling of a petition against a serving governor in the Middle-Belt, who it was claimed had tendered a forged certificate while vying for the post of a governor, yet triumphed at the alter of illegality. The case ofcourse and as usual, with the political infightings ravaging the ruling parties and opposition in the country, still drags on like a snail in court.
One finds it very difficult to understand why we as a nation cannot do the right things for once or are the courts telling us that it had been compromised yet again on the certificate forgery case? Evidence abounds, no matter how one takes advantage of the sytem and twists it to his benefit, as to whether one attended school or not. If the governor had claimed his certificates where original and not forged, why the dillydally by his team of lawyers since 2007? Why the procrastination and subvertion of justice? Many are still watching and believe one day, the bushmeat shall definately catch the hunter.
The eventual prosecution of Chief James Ibori in the UK sometime ago have not only exposed the weakness in the anti-corruption struggle in Nigeria, but also shows we are not ready to pursue a course that will bring social and political justice for the vast majority of the people in the country. Ibori's loot would have built more than two hundred health care centres in Delta state. It would have led to the construction of world class roads, jobs would have been created, institutions built, pensions would have been effectively paid while Deltans would have lived like kings the way he also wanted to with his heavy loots. The question this writer keeps asking is why the Nigerian system had to allow a high profile criminal like Ibori face charges of money laundering and cases of corruption abroad when all evidence against him where on the table of the EFCC and court of law? Even if a corrupt and highly compromised judge had acquitted him, those concerned ought to have pursued all claims to a logical conclusion which was critically done by the Southwark Court to finally nail Ibori. Who would have believed a man of his calibre, having been involved in fraud in the past, would amass such a huge wealth, despite the wanton starvation, poverty and hopelessness among his people.
Nigerians are more than relieved to see a man like Ibori locked behind bars which is where he belongs anyway. Nigerians are happy at the exposure of a man who ordinarily would have been shielded from prosecution in his native country. Nigerians are waiting for others like the EFCC's case files of 32 governors who had bled their respectives states dry for years to be shown the true course of justice.
The decision, however, of the UK court to repatriate Ibori's loots to Delta state is one that is illogical and highly misplaced. This writer is of the opinion that the judge in the UK did not understand the implication of this when it was said that Ibori's loot belonged to the people of Delta and should be returned for the provision of health and other facilities. The judge had failed to understand that Ibori knowingly decided to plead guilty of all charges simply because he knew he was going to get a light sentence under a plea bargaining arrangement and ofcourse his loot simply sent back to where it was stolen from. Prosecutors had failed to understand that a Federal High Court Judge in Asaba, Marcel Awokulehin had dismissed all the 70-count charge against Ibori which was the same scenario that played itself when Ibori had pleaded not guilty because he knew the trial was going to be in his favour.
The desperation by the Delta state Commissioner for Information, Mr Chike Ogeah, demanding that Ibori's loot be returned immediately to the state's treasury as ordered by the UK court sparks of a means to continue the kleptocratic tendencies and further bleeding of Ibori's looted funds to him once again through politics of 'cousinhood' fast becoming a norm in the country. For the fact that such looted funds are going back to a state Ibori's cousin hold sway as the governor makes the UK court and all it had fought against fruitless. When one looks back, the same abject poverty and anti-people policies which began with James Ibori still permeates the Delta. All one needs to do is to go to places like Ubulu-Unor in Aniocha South Local Government to see years of abandoned roads and water projects, despite such projects fully paid for with ten per cent completion.
This is not the state the UK court would wish to send Ibori's loots to. No matter the sentence given to Ibori and despite being an illegitimate governor, a thief in government house and a pretender of that public office, he will somehow rise again, typical of the Nigerian political system, pardoned by the powers that be and even made a Minister, having been made to recover his loot.
The UK court must look back and ask how a former military president's repatriated loots were used by the state and numerous other loots recovered at one time or the other. Rather than return a loot that will be further looted, the UK court should go into partnerships with several corporate organisation or United Nation specialised agencies where such loots will be used to massively develop the entire Delta. Because Ibori's money laundering and corruption case landed in the UK and as a result used the full weight of the law to finally bring him to justice, such loot should be supervised by competent hands from the UK and ensured there is a time frame whereby all projects are completed. With this, the thievery and scam which characterize the entire Nigerian system will not have anything to do with Ibori's loot.
Because the Nigerian clime is not saner, the UK must ensure that series of thieves in government house and pretenders of such public offices do not climb the ladder of success illegally. Such individuals are not the kind of people Nigerians want their future generations to emulate.
Written By Raheem Oluwafunminiyi
[email protected]

Disclaimer:

"The views/contents expressed in this article are the sole responsibility of

thewillnigeria.com

and do not necessarily reflect those of The Nigerian Voice. The Nigerian Voice will not be responsible or liable for any inaccurate or incorrect statements contained in this article."
Articles by thewillnigeria.com