Liyel Imoke Visits Tourism Bureau Auto Crash Victims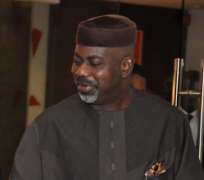 CALABAR, March 06, (THEWILL) - The Cross River State Governor, Senator Liyel Imoke visited St. Nicholas Hospital, Campbell Street Lagos Island to condole some top management of the Cross River State Tourism Bureau who were involved in an auto crash recently in Lagos while on official duty.
The Governor who on arrival was received by the management of the Hospital and conducted round the Wards, wished them quick recovery on behalf of the Government and people of Cross River State adding that the entire people of the State share in the pains which they are passing through in the course of working for the State.
Among those visited were the Managing Director of the State Tourism Bureau, Mr. Michael Williams and Mrs. Patricia Ogon who expressed gratitude to Governor Imoke and the entire people of the State for the show of love, saying that they are humbled by the show of concern which they further emphasized will fast track their quick recovery.
It will be recalled that the entire Management of the State Tourism Bureau were recently involved in a ghastly motor accident in Lagos on the departure day of a weeklong workshop intended to put the staff on the right frame to move the Bureau to the next level in 2012.