Nigeria Warns South Africa, Says More Deportations On The Way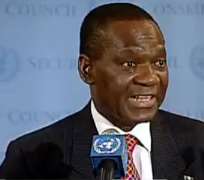 ABUJA, March 07, (THEWILL) – The Nigeria government Tuesday warned that it would no longer play the big brother in diplomacy just as it expanded the deportation of South African nationals travelling to Nigeria.
Nigeria's resolve is in retaliation to the deportation of 125 Nigerians by the South African government.
Already about 80 South African travellers have been sent home from the international airport in Lagos with the Minister of foreign Affairs, Ambassador Gbenga Ashiru vowing more retaliation.
Ashiru appeared before the Senate Committee on Foreign Affairs and the House of Representatives, saying the federal government will impress on the South African government to address the issue of maltreatment of Nigerians.
Amb. Ashiru warned that the response of Nigeria to the recent deportation would serve as a signal to other African countries and the west.
Nonetheless, he said the bi-national meeting between Nigeria and South African Government, headed by Nigerian Vice president will be convened immediately assuring that some of the issues would be addressed.
Amb. Ashiru also warned that South Africa should not take Nigeria's matured attitude and friendly disposition to other African nations for granted saying no nation, not even South Africa has the monopoly of deportation of travellers.
"I find the action as totally unfriendly and un-African. You don't treat fellow Africans that way and we will not leave any stone unturned to get to the bottom of the matter. They should know that they do not have monopoly of deporting travellers and if we feel that the action against our national was discriminatory, we will take action to reciprocate and there are various ways of reciprocating.
"Henceforth, for every 10 Nigerians that are deported, Nigeria will take decisive and reciprocal actions. All requirements must be met before we consider the issue resolved", he said
The Minister however blamed the circumstance only on the Police and Immigration officials noting that at leadership level, Nigeria and South Africa have maintained cordial relationships.
"The immigration officials are unfriendly to Nigerians and Africans in general. They have the phobia that people are coming to take away their wealth."
The Senator Mathew Ifeanyi Nwagwu-led committee had summoned the Minister to find out his action against the deportation of Nigerians in two flights last week.
Commending him for steps already taken, the lawmakers however disagreed that South Africa has maintained cordial relationship with Nigeria at leadership level.
According to Senator James Manager (Delta South), ever since the liberation struggle in South Africa, which Nigerian played a significant role, the white South Africans have been in a cold war with Nigeria.
"It took all Nigerians to savage South Africa from what they were but from the onset, the country has not gotten it right with Nigeria and it must not be allowed to continue", he said.
The lawmakers also called for a robust foreign policy between both countries as a way of forestalling future occurrences.