SUPREME COURT JUDGMENT: IMO SWEET AND SOUR STROKES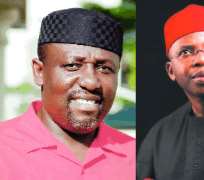 By Emmanuel Aziken, Political Editor
Given the technical rule upon which the Supreme Court dismissed the appeal by the Peoples Democratic Party, PDP against the election of Owelle Rochas Okorocha as governor of Imo State last Friday, it was bound to particularly painful for PDP officials.
'We suffered for what we didn't really cause, this sixty day thing. We were punished for an offense we didn't commit,' Chief Blyden Amajirionwu the publicity secretary of the Imo chapter of the PDP told Vanguard.
The Supreme Court had upheld the Okorocha's election on the platform of the All Progressive Grand Alliance, APGA upon the technical claim that the appeal elapsed the required 60 days as provided by the law.
Ahead of the court judgment there had been speculations that the PDP at the federal and state levels were determined to cut short what was being regarded as the Imo renaissance said to have been brought about by the Okorocha administration which took over from the PDP's Ikedi Ohakim.
Okorocha and Ohakim
Before Ohakim, another PDP governor in the person of Chief Achike Udenwa had also ruled Imo State for eight years. The Okorocha administration's nine month administration is regarded in some quarters to have eclipsed the combined 12 year reign of the PDP in the state.
Amajirionwu even while dismissive of the alleged achievements of the Okorocha administration nevertheless gave a pointer to the sentiments on the alleged performance with his assertion that contractors rebuilding the state's roads have abandoned their sites.
'Many contractors have pulled out of site. I live in Owerri and I know that almost 80% of them have been abandoned by the contractors and we are afraid that if the rains come and meet the roads at the stage they are now, it would be more of a problem than they used to be,' Amajirionwu chipped in.
Mr. Chinedu Offor, the Senior Special Assistant to Governor Okorocha on Media, however, described the assertion as sour grapes even though he admitted some apprehension among some contractors over the sustenance of the road projects in the event the apex court had returned Ohakim to office.
'There was no doubt that while all these court cases lasted that there were people who had fears and apprehensions especially some contractors who had second thoughts and that delayed some of the projects,' Mr. Offor, a former broadcaster with the Voice of America told Vanguard.
He further described Amajirionwu's comments of abandonment of the sites as sour grapes flaying the PDP for the effrontery of chastising when the party failed to make any impact in its time in office.
'The court case is over, Governor Okorocha has four years to deliver on his mandate. If they have some criticisms why don't  let them wait four years. They had four years to make a difference but they didn't so I think it is only fair that they give him four years and after that they criticize him. Work is going on at a fast pace all over Imo State and there is no basis for such allegation,' Mr. Offor further opined.
With a tone laced with sarcasm the PDP publicity dismissed the Okorocha administration as rudderless and without a blueprint for governance.
'Okorocha has not come out with any blueprint I don't even know the extent of performance that you can now begin to compare. He is trying to do some roads but what we are hearing about those roads is that he is even paying for them and the contractors are pulling out of site,'
'A government is supposed to come out with a clear cut policy. We don't know his blueprint. For example when you say that you are going to pay N100k per student and you are chasing them out because they have not paid N49k those things are just to impress the public and not that they can be sustained.'
'And most of these things are not even captured in any budget. Government is a systematic thing, but what we are seeing here is that this government is not a systems government, we have not seen any blueprint, we don't even know the reaction of the government just that things are done on impulse and that is the way we are operating in Imo now.'
Dismissing the strokes, Offor said:
'It is not a victory for Governor Okorocha personally, we see it is as a victory for democracy, we see it as a victory for Imo people and the mandate given to his Excellency. While we welcome the Supreme Court decision we also want to use it is as an opportunity to call on everybody irrespective of party leaning to join hands with His Excellency Owelle Anayo Rochas Okorocha to fast track development to turn Imo into a model state and also a reference point for everything good in Nigeria.
Pace and pattern of governance
I think it gives us fresh impetus to continue what we are doing. It is a validation of His Excellency's victory but there was no doubt that while all these court cases lasted that there were people who had fears and apprehensions especially some contractors who had second thoughts and that delayed some of the projects.
Now that all these are over, there is no doubt that there will be a faster pace in all what they are doing. His Excellency met with contractors yesterday and he is also meeting with contractors today, he is doing a lot of on site inspections because he wants everything to be ready and to be commissioned before the end of his first year in office.'